NWU empowers staff members
Successfully completing a qualification and graduating is a milestone many a person look forward to. On 12 October a total of 18 staff members from the North-West University's (NWU's) campuses in Mahikeng, Potchefstroom and Vanderbijlpark celebrated the completion of their business administration course with a private graduation ceremony.
Laughter, excitement and tears of joy were the order of the day as each graduate gave a heartfelt acceptance speech.
In their speeches some described how the course had empowered them at work and in their personal lives. Others spoke about how they gained more confidence and have since advanced in their careers because of the course.
"Completing this course was the best decision I have ever made," said Jane Mogotsi from Mahikeng. "I am now reaping the rewards. I was taught team work, conflict resolution, customer service skills and how to fully operate a computer.
When asked about what she learned during the course Colleen O'Grady from Vanderbijlpark said: "This course was very challenging for me, but I managed to pull through and complete it. I did not only learn from the course itself, but also from my fellow colleagues who come from different cultural backgrounds."
Stephen Tsebela, NWU skills development facilitator and development manager, explained that the business administration course is accredited with the Services SETA, has 148 credits on NQF level 4 and spanned a period of 12 months.
The course is aimed at empowering employees who do not have a formal qualification, in the hope that it motivates them to continue studying.
"We find that the older you get the more difficult it becomes to study," said Stephen. "Therefore we introduced this course two years ago for employees who do not have any formal higher education to use it as a stepping stone to further their studies.
He added that he is extremely happy about the graduation, since the development of elementary staff members will contribute to the NWU's strategic employment equity objectives.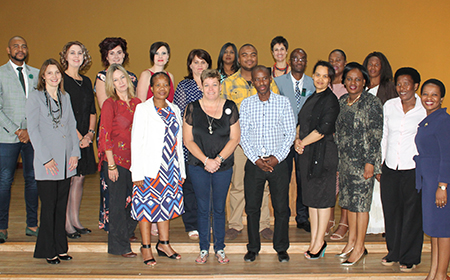 These staff members of the NWU's campuses in Mahikeng, Potchefstroom and Vanderbijlpark successfully completed a course in business administration. Also with them are their proud course facilitators.