NWU is doing its part to eliminate a silent killer
Raised blood pressure is the biggest single risk factor responsible for mortality worldwide.

Despite this, the majority of people with hypertension are unaware of suffering from it, are untreated, or are on treatment but don't control the illness.
May Measurement Month is a global campaign initiated by the International Society of Hypertension to raise awareness of high blood pressure – a goal that the North-West University's (NWU's) Hypertension in Africa Research Team (HART) wholeheartedly supports.
According to Sr Adele Burger, manager of the Hypertension Research and Training Clinic and local project coordinator, a study proved that in 2017, the first year of the campaign, more than 1,2 million people in 80 countries across the world were screened. More than100 000 people with hypertension who did not receive treatment, and more than 150 000 people that did receive treatment but did not control it, were identified.
"Taking into account the lessons learned from past campaigns, it was recently repeated on the NWU's campus in Potchefstroom, and students, staff and members of the public were invited to test their blood pressure," she says. 
"Ultimately, we want to use the data that we generated to influence governments and health policy makers to provide more emphasis on and support for blood pressure screening and the prevention and management of raised blood pressure."
She says elevated blood pressure is a growing burden worldwide, leading to over 10 million deaths each year.
"We are glad to be part of May Measurement Month and to assist in providing a temporary solution to the lack of screening programmes worldwide. A South African surveillance study in 2016 revealed that 45% of adults have hypertension, and only 6% to 9% of men and women respectively controlled their elevated blood pressure by using medication. This alarming figure emphasises the need for regular screening and awareness campaigns," she says.
May Measure Month's top 10 tips for healthy blood pressure
Maintain a healthy weight: This alone can lower high blood pressure.
Exercise regularly: Aim for an average of approximately 30 minutes a day. For the exercise to be worthwhile, you need to feel warmer, breathe harder, and your heart needs to beat faster than it normally does.
Eat plenty of fruit and/or vegetables every day: Eat vegetables raw or lightly steamed, rather than boiled, to get maximum nutrition. Avoid frying.
Add beetroot to your diet: Regular consumption of beetroot juice has been found to help lowering blood pressure.
Cut down on salt: Remember there is a lot of hidden salt in processed foods, and most breads, cereals, soups and sauces also contain a lot of salt. If possible, always read the label.
Cut down on fat and sugar: Always check the label. Be especially wary of hydrogenated or 'trans' fats, as well as sugars 'hidden' in other names such as sucrose, dextrose, fructose and glucose – for example in fruit juices and fizzy drinks.
Stop smoking: Arteries clog up even faster if you smoke and this causes many other health problems. Blood pressure actually rises while smoking.
Reduce caffeine intake: Remember caffeine is found in some fizzy drinks as well as in coffee and tea.
Don't drink too much alcohol: Stick to the daily recommendation – usually less than two drinks for men and one for women (one drink = small beer or wine).
Relax: Stress contributes to raising blood pressure. Avoid stress where possible and allow time for relaxation. This can take many forms such as quiet time, socialising, exercising or laughter.
For more information about May Measure Month, please visit http://maymeasure.com/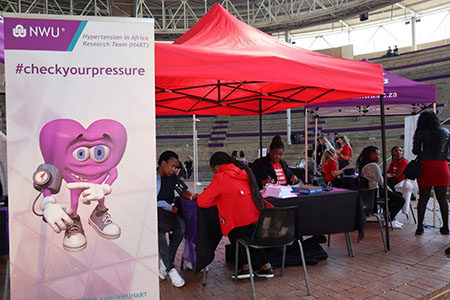 The NWU's Hypertension in Africa Research Team supported May Measure Month by inviting students, staff and the public to test their blood pressure.