NWU Department of Social Work hosts oath-taking and celebrates World Social Work Day
The Department of Social Work on the Mafikeng Campus of the North-West University (NWU) hosted an oath-taking ceremony for second-year social work students while celebrating World Social Work Day on 29 March 2017 at the Student Centre Hall.
Oath-taking is usually done by all registered social work students. With this oath they declare to treat all people with dignity, respect, privacy and hold in confidence all information obtained in the course of their professional service with diligence and integrity.
Among the dignitaries who attended this event were Ms MD Mothobi, head of the North West Department of Social Development and Dr Mpho Chaka who represented the dean of the Faculty of Human and Social Sciences.
While addressing the students, Ms Mothobi shared the following: "When you graduate, let's try by all means to help our communities here in the North West Province, as social work has been identified as one of the scarce skills in the National Development Plan. Let's be community developers."
Dr Chaka also echoed Ms Mothobi's words by emphasising that their profession requires of them to be ethical, committed and responsive to the needs of society.
During this ceremony the department also acknowledged top performers of 2016 in the social work programme.
World Social Work Day was officially celebrated on 21 March 2017, and this year's theme was "Promoting Community and Environmental Sustainability". This day was launched by the International Federation of Social Workers in 1983, and other social work organisations such as the International Association of Schools of Social Work later joined them as partners.
World Social Work Day has become a highlight in the social work calendar of social workers all over the world, celebrating and promoting the contributions of the profession to individuals, families, communities and the greater society.
On this day social work organisations across the world share the unique and significant contributions of the social work profession. They also highlight social work's approach to facilitating sustainable community outcomes by applying a developmental and capacity building approach coupled with advocating for social justice and human rights.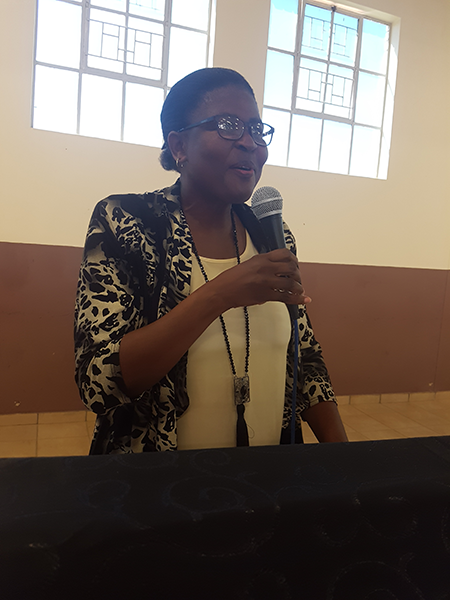 Ms MD Mothobi, Head of the North West Department of Social Development addresses social work students during their recent oath-taking ceremony.