NWU Council chair puts focus on nuclear safety
As part of a countrywide celebration to mark the 20th anniversary of the National Nuclear Regulator Act (NNRA), the chief executive officer of the National Nuclear Regulator (NNR) and chairperson of the North-West University (NWU) Council, Dr Bismark Tyobeka, delivered a public lecture on the campus in Mahikeng.

"There is a nuclear brain drain worldwide, and therefore it is of the utmost importance for us to grow and nurture our own timber," warned Dr Tyobeka, encouraging students to apply for study assistance to ensure competent and trained practitioners for the future.  
This lecture was the one presented by Dr Tyobeka at an institution of higher learning, and was well attended by students, staff and guests from across South Africa.
"A regulator such as the NNR should have safety as its primary focus. For example, we conduct regular  emergency drills at nuclear stations such as Koeberg, to simulate what would happen and should be done in case an accident occur," said Dr Tyobeka. 
For 20 years, the NNR Act has ensured a safe and secure operational environment for the benefit of all South Africans."  
* The NNRA is the cornerstone of nuclear safety regulation in South Africa. It sets out the objectives, functions and responsibilities of the National Nuclear Regulator (NNR) for providing regulatory oversight for the protection of persons, property and environment against nuclear damage.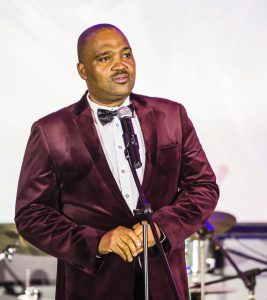 Dr Bismark Tyobeka.