NWU Council chair presides over international convention
The chairperson of the North-West University's (NWU's) Council, Dr Bismark Tyobeka, presided over the international Atomic Energy Agency's (IAEA's) sixth Joint Convention Review Meeting.
The meeting on the safety of spent fuel management and radioactive waste management started on 21 May in Vienna, Austria and will conclude on 1 June.
Dr Tyobeka, who is the chief executive officer of the South African National Nuclear Regulator, was elected as president of the sixth IAEA Joint Convention Review Meeting in May last year and is presiding over the Vienna meeting in this capacity. This is considered a great honour for South Africa in the nuclear field. 
Elected chair of the NWU Council in 2017, Dr Tyobeka is no stranger to accolades and was a recipient of the NWU's prestigious Alumni Award in 2013.
As president of the review meeting, Dr Tyobeka works closely with his colleagues of the Joint Convention to encourage constructive discussions on key issues that the contracting parties of the convention face. He engages with regional networks to help support IAEA member states who are not already contracting parties to the Joint Convention to obtain this status.
Safe management is crucial
In his opening remarks at the Joint Convention, he highlighted the vital contribution nuclear technology and radioactive materials make to modern society.
"As we continue to expand our application of nuclear technology, radioactive materials and radioactive sources, one cannot overemphasise the need to ensure the safe management of the spent nuclear fuel and radioactive waste arising from these applications, to assure the protection of persons, property and the environment. The trust of society at large that the continued and expanding applications of nuclear technologies are both safe and sustainable, must be earned."
The Joint Convention is the first international, legally binding instrument in the field of safety of radioactive waste and spent fuel management. It has established an international peer-review process among contracting parties, which submit national reports on their work under the Convention for review by other parties in a process that aims to encourage continuous improvement.
Delegates from most of the 78 contracting parties attended the meeting to review their peers' work in order to fulfil their obligations under the Convention.
Review meetings are held every three years. Nine countries, Botswana, Cuba, Jordan, Lesotho, Madagascar, Mexico, Niger, Peru and Serbia, have become parties to the Convention since the last meeting, which was held in 2015. South Africa became part of the Joint Convention in 2006.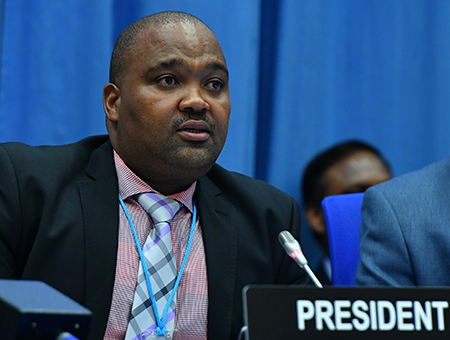 Dr Bismark Tyobeka, chief executive officer of the South African National Nuclear Regulator and NWU Council chairperson, says it is necessary to ensure that spent fuel and radioactive waste are safely managed. "There is an ongoing need to earn societal trust through the expanding of safe and sustainable applications of nuclear technologies."