NWU Choir secures top honour at regional choir competition
The choir on the North-West University's (NWU's) campus in Mahikeng took top honours during the regional competition of the Old Mutual Choir Festival that was held on 3 September 2017 at the Rustenburg Civic Centre.
Not only was the choir crowned the overall winner of the competition, but they also secured first place in the African and second place in the Western piece categories.
According to Zenandi Liwela, chairperson of the choir, the regional winners will battle it out during the national final that will take place at Ellis Park, Johannesburg from 10 to 12 December 2017.
"I am very proud to be part of this choir. These choristers are all committed to make the NWU proud during the next level of this competition," says Zenandi.
The National Choir Festival (NCF) is a national choral music competition conducted at district and regional/provincial level culminating in a national final. It is an annual event that runs from January to December. Old Mutual has given financial backing for this project since 1988.
The project goes beyond the borders of South Africa, with choirs from Lesotho, Botswana, Zimbabwe and Swaziland joining South African choirs in this exciting music development venture. It is considered to be the biggest and best of the choir festivals and draws attendants and fans from all over the country and SADC region.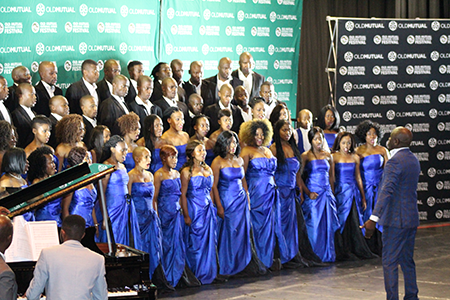 The choir on the NWU's campus in Mahikeng delivered a stellar performance during the regional finals of the Old Mutual Choir Festival.