NWU Career Centre helps to make dreams a reality
A large number of graduates from the North-West University (NWU) find employment within the first three months after attaining their qualifications.
The NWU's Career Centre hosts numerous career fairs to ensure that students have adequate information on the various career opportunities available to them.
So far this year the Career Centre has hosted eight career fairs across the three campuses, with 150 organisations participating and 4 000 students in attendance.
It's for this very reason that the Career Centre made the finals of the South African Graduate Employers Association (SAGEA) Biennial Awards.
SAGEA is a non-profit professional association dedicated to connecting and advancing graduate employment.
"Our team is delighted and humbled by the positive sentiments from all our stakeholders in the SAGEA community," says Hloni Putsoane, employer engagement consultant at the Career Centre. "We promise to continue working tirelessly for our students."
The NWU congratulates the Career Centre for being a finalist and applauds them for assisting students to find their dream occupation.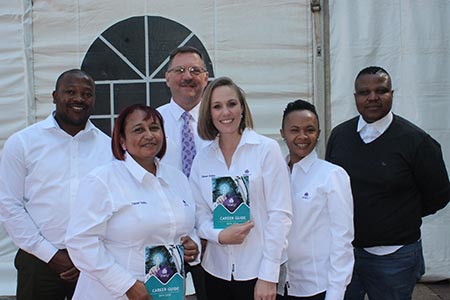 Meet the NWU Career Centre's stellar team. In the back are Hloni Putsoane, employer engagement consultant, and Peet Roos, career consultant. In the front are Avis Erens, administrative assistant, Suzanne Coetzer, campus liaison officer, Hope Abrahams, information officer and Thoriso Maseng, Career Centre manager.