NWU Business School walks for cancer
The North-West University School of Business and Governance's team held the university's name high during the annual Cansa Relay for Life that took place on 3 March 2018 at the Rag Farm in Potchefstroom.
The team – consisting of staff members, students and alumni – participated with enthusiasm and completed their numerous laps around the field in honour of those fighting against cancer. The last round, which took place at midnight, was in remembrance of those who lost their battle against the dreaded disease.
"As a business school it is important to be involved on several terrains in the community, and in 2018, we will attempt to build forth on existing projects," says Prof Fulufhelo Netswera, the director.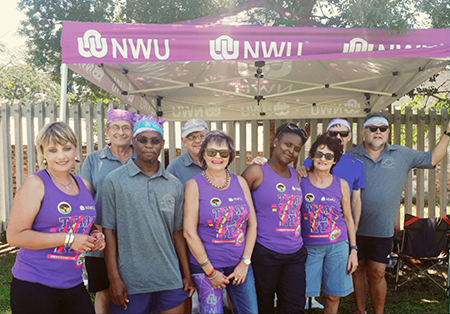 The NWU's School of Business and Governance recently supported Cansa Relay for Life. At the back from left are Johan Jordaan, Prof Stephan van der Merwe, Dr Micky Josipovic and Prof Ronnie Lotriet. In the front from left are Marilize Minné, Prof Fulu Netswera, Elma Senekal, Anthea Gaanakgomo and Retha Scholtz.