NWU brings education to your doorstep
The North-West University (NWU) believes distance should never be an obstacle to education. This is why in an attempt to bring education right to your doorstep, the Unit for Open Distance Learning of the NWU has recently established two offices in Namibia.
The NWU is proud to offer quality education to the more than 1 500 Namibian students that are currently enrolled for its open distance courses. The new offices which are situated in Windhoek, at the Old Power Station and in Ongwediva in the North will streamline the registration and academic experience for these students.
It will also assist new and prospective students who want to study through open distance learning with their applications and with information and guidance.
Five staff members are managing the administrative and logistical aspects of the unit as well as the marketing of the programmes. The offices are fully equipped with internet connectivity and service stations where students can log in to the NWU website to download material or to apply online.
NWU bridges the gap
Even though the NWU has offered distance learning to particularly education students for many years, it formally established the Unit for Open Distance Learning in 2012. This unit provides quality programmes in various fields of study to nearly 30 000 students living locally and internationally.
It is the ideal solution for students who cannot enrol full-time at a university. Programmes are presented with scheduled white-board contact sessions which can be downloaded. The latest software is provided with registration.
The eFundi learning management platform is used for easy communication between lecturers and students. This electronic platform enables you to study on your own time, at your own pace and in the comfort of your own home and at the same time, earn while you learn.
Those students who do not have access to a computer can also attend classes at one of the learner support centres which are equipped with computers and Wi-Fi. Learner support centres are situated at Windhoek, Ongwediva, Rundu and Katima Mulilo.
The following degrees, diplomas and certificates are offered:
Education programmes: Advanced certificate in Teaching (ACT)
Advanced diploma in Teaching (ADT) Advanced diploma in Education (ADE) Grade R diploma
BEd and BEd Honours
BA degree in Theology, BA degree in Public Governance with Policing Practice, BSC in Information Technology, Postgraduate diploma in Management and University Preparatory Programmes.
For more information visit our website at
www.distance.nwu.ac.za
or contact one of our marketers: Chris Ngalandgii at 081 6692667 (north) or Ignatius Geingob at 081 844 0204 (Windhoek).
Enquiries:
Koos Degenaar, Manager: Distance learning recruitment, Marketing and Student Recruitment, NWU:
079 519 8283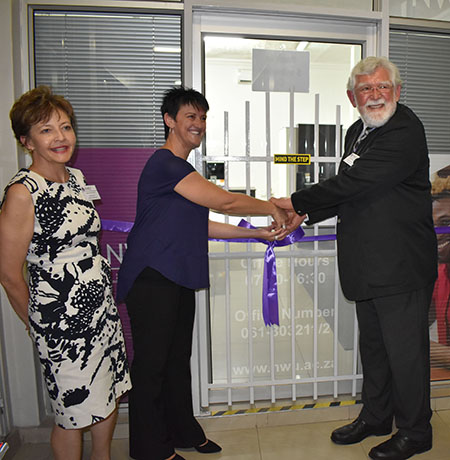 Prof
Fika Janse van Rensburg
, vice-principal: NWU and deputy vice-chancellor: Potchefstroom Campus operations NWU officially opens the Unit for Open Distance Learning's office in Windhoek. With him is Ms Shola Smit, Head of Department: SALA Namibia  (right) and Prof Marlene Verhoef, registrar of the NWU.