NWU boxing team tops at USSA championship
The North-West University's (NWU's) boxing team at the campus in Mahikeng was announced the overall winner during the University Sports South Africa (USSA) championship that took place from 2 to 4 July 2018 on that campus.
The team secured seven gold medals thanks to Lemogang Moote, Tshegofatso Lentswe, Nompumelelo Dlamini, Goitseone Kgopisho, Keoagile Morolong, Karabo Matloa and Lebogang Khalani. Boitumelo Kobone, Phimi September, Lorencia Kale, Michael Khoathoane. Gideon Tshabalala and Serati Letsholo each brought home a silver, leaving the total at six silver medals. Thato Tuwe and Tshepo Seponkane secured two bronze medals for the team.
Tshegofatso Lentswe was also announced Best Female Boxer and best Female Boutof the tournament. NWU head coach Onalenna Tsae received a medal for Best Female Coach.
Mr Jameson Mashimo, chairperson of the NWU boxing team, also received a medal for best Referee/Judge of the tournament.
"We wish to thank Open Boxing Federation in the district and province, the NWU Sports Department under the leadership of Mr Rick van Rooyen, all officials, coaches, technical and team managers as well as the USSA executive for their great work in making this tournament a success," said Onalenna Tsae.
Prof Dan Kgwadi, the NWU vice-chancellor attended both the opening ceremony and the closing function, and congratulated the boxing team for flying the NWU flag high during the USSA championship.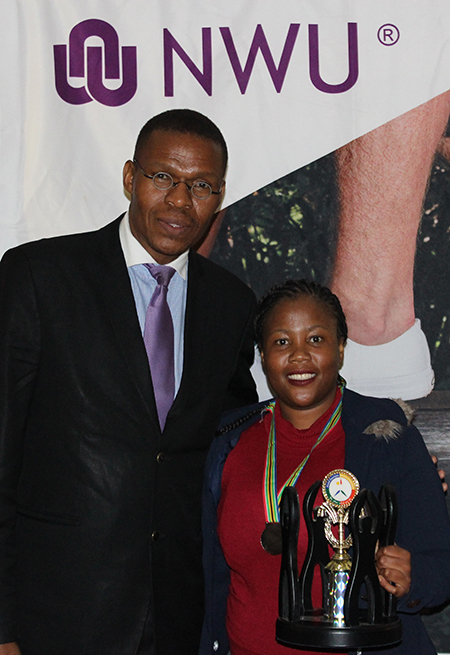 Prof Dan Kgwadi, NWU vice-chancellor, congratulates NWU coach Onalenna Tsae.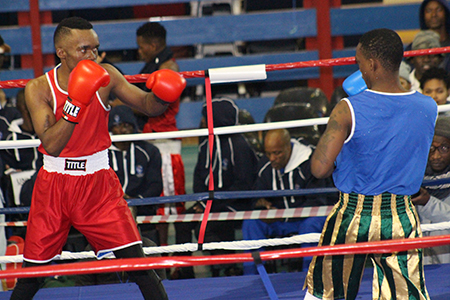 NWU gold medal winner Lebogang Khalani takes on an opponent from the University of Limpopo.