NWU and Sasol Foundation celebrate postgrad excellence
Fuelled by their thirst for knowledge, five North-West University (NWU) students took part in the Sasol Foundation's Postgraduate Science Fellowship Programme.
The NWU and Sasol recently celebrated their achievements on 25 October 2018 during the Sasol Foundation's annual graduation evening ceremony.
The foundation launched their postgraduate programme in 2012 to increase the pool of graduates with honours, master's and PhD degrees in chemistry and environmental chemistry from universities across the country.
Since the inception of the programme, more than 300 bursaries have been awarded in partnership with the National Research Foundation, with 230 students completing their postgraduate degrees in science.
Students from the NWU subject group Chemistry have been beneficiaries of this programme since 2012.
This year of the 61 students graduating from the programme, five were from the NWU. Four of these students obtained their honours degrees and one a master's degree.
These five students attended the gala event along with Dr Zimbili Mkhize acting subject head of Chemistry, and Prof Lebo Katata-Seru, acting director of the School of Physical and Chemical Sciences.
According to Dr Mkhize the subject group has managed to successfully deliver a number of postgraduate students in various research fields over the past years.
"These include four PhDs, six master's and 24 honours students, all sponsored by the Sasol Foundation," he says. "This year the Sasol Foundation is sponsoring eight honours, 10 master's and four PhD students."
"The NWU is grateful for the partnership with the Sasol Foundation and looks forward to a continuation of this relationship. I wish to congratulate all the graduates of this programme."
The NWU and the Sasol Foundation have also recently signed a donation agreement following the donation of research equipment to the value of R2 605 368 to the subject group Chemistry in the Faculty of Natural and Agricultural Sciences.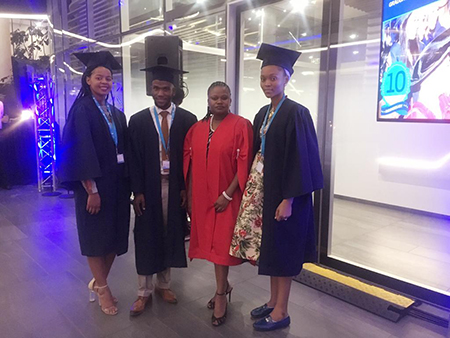 Students Gaolatlhwe Lesego, Seboletswe Pule and Dhamini Bongiwe with Dr Zimbili Mkhize at the Sasol Foundation's graduation ceremony.