NWU and German university solidify their partnership
"Great things in business are never done by one person; they're done by a team of people." This quote by Steve Jobs rang true at the third public lecture within the North-West University's (NWU's) Research and Innovation Seminar Series.
The NWU, together with Justus Liebig University Giessen in Germany, decided to celebrate their 10-year partnership by signing a cooporation agreement for another 10 years.
Prof Refilwe Phaswana-Mafuya, the deputy vice-chancellor for research and innovation, recently invited members of the public and media to witness this occasion.  
According to Prof Dan Kgwadi, NWU vice-chancellor, the main aim of the cooperation agreement is to promote international exchange, closer cooperation in research and teaching, and the development of joint projects.
Dr Joybrato Mukherjee, president of Justus Liebig University Giessen, and Ms Julia Volz, the director at the university's international office, both presented lectures on the day.
Dr Mukherjee gave insight as to why the German higher education market has become more attractive over the years. He also explained how the higher education sector and research in Germany is funded. Ms Volz presented the university's institutional profile and their international strategy.      
To commemorate this remarkable occasion, Dr Mukherjee said the Justus Liebig University Giessen will sponsor one NWU student with a fully paid scholarship for their summer school.
Another highlight during the public lecture was when Dr Jorn Ahrens from the NWU's Faculty of Humanities received an honorary doctorate.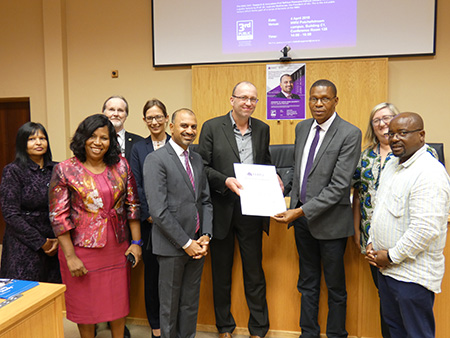 Members of the NWU and Justus-Liebig University Giessen attend the third public lecture within the NWU's Research and Innovation Seminar Series.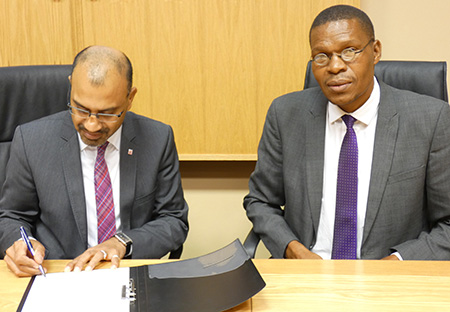 Dr Joybrato Mukherjee (left) signs the cooperation agreement with Prof Dan Kgwadi