NWU and friends stand together to help others
In a continuous drive to lessen the burden on those in need, alumni and friends of the North-West University (NWU) are continuing to make a difference in the lives of vulnerable communities.
Almost 100 learners from the Kagiso Barolong High School in the Ngaka Modiri Molema District are the latest recipients of school shoes and sanitary pads.
Similar handover functions have taken place in the past two months in different parts of the province.
"The overall objective of this initiative is to raise funds and encourage donations to assist those less fortunate in our communities," says NWU alumnus Aobakwe Ditshetelo. "So far we have been able to assist two schools, but there is still a lot more to be done."
Despite the challenges that learners attending the Kagiso Barolong High School face, they continue to excel, and this rural school has achieved a matric pass rate of more than 90%.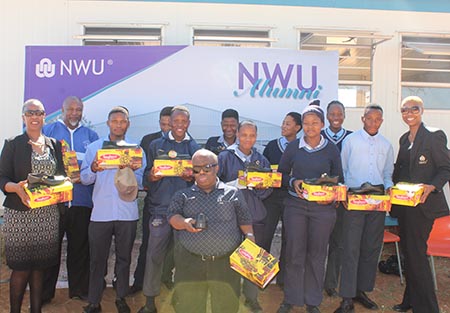 These happy leaners received school shoes. With them are NWU alumnus Aobakwe Ditshetelo (in front, centre) and Tshepisho Sebeela, NWU alumni practitioner (far right). Aobakwe is appealing to NWU alumni to participate and donate shoes and sanitary pads via the NWU's Alumni Office.