NWU alumna makes South Africa proud at Miss Wheelchair World pageant 
Lebogang Monyatsi, an alumna of the North-West University (NWU) made South Africa and the NWU proud when she was crowned first princess during the first ever Miss World Wheelchair pageant that was held on 7 October 2017 in Warsaw, Poland.
Lebogang is the first South African woman in a wheelchair to be a runway model and was the first to represent South Africa in the Miss World Wheelchair pageant. She is well known for representing South Africa in the field of wheelchair basketball, and has also been part of the South African Wheelchair Basketball league.
Lebogang was born and raised in Vryburg in the North West Province, and graduated from the NWU's campus in Mahikeng with a Bachelor of Social Sciences in psychology in 2014.
Lebogang's most noteworthy accomplishment was to challenge the status quo by becoming Africa's first ever runway model in a wheelchair. This achievement was a big part of her drive to work towards disability inclusion. Her hope is for every aspect of life to be accessible to people with disabilities.
* The Miss Wheelchair World Project was created with the thought of changing the image of disabled women across the globe. The organiser of this unique event is the Only One Foundation, started by two disabled moms who wanted to direct society's attention to the matters of women with disability.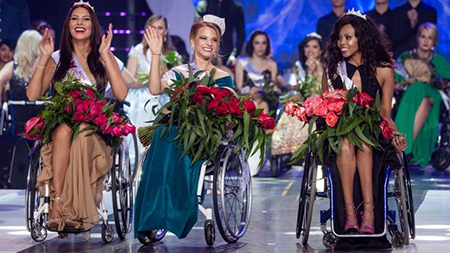 NWU alumna, Lebogang Monyatsi, (far right) was announced first princess during the Miss Wheelchair World pageant. Adriana Zawadzinska from Poland (middle) is the second runner-up, and Aleksandra Chichikova from Belarus was chosen as the overall winner.