NWU alumna blazes a trail of excellence in HR industry
Remember the name Betty Mahlatsi. This 28-year old alumna of the North-West University's (NWU's) campus in Vanderbijlpark has her sights set on success and if her professional run so far is anything to go by, she is on track for greatness.
Betty, a talent and leadership development coordinator at Transnet Freight Rail (TFR), was recently lauded as the Institute of People Management's (IPM) Emerging Practitioner of the Year 2016.
The annual IPM Awards give recognition to innovative and capable people leaders in both the HR and general business community. As the IPM Emerging Practitioner of the Year, Betty outshone thousands of young human resources (HR) practitioners across industries, at the prestigious annual conference of the IPM.
She started her career as a "graduate in training" at Transnet and differentiated herself from the word go.
According to Tumelo Mokwena, the general manager for human capital at TFR, Betty's sense of curiosity, her initiative and go-getter attitude makes her an invaluable HR practitioner. "Betty never shies away from a challenge," says Tumelo.
Passion, drive, motivation, zeal… call it what you want, a self-driven attitude will lead you down the path of career success.
Passionate about people
"I am passionate about people development," says Betty and ascribes her result-orientated work ethos as a consequence of her resilience and focus.
In her daily work environment Betty presents workshops and advisory sessions to line managers and employees regarding leadership development interventions and processes, she facilitates talent management training at various levels and represents the TFR in various career and skills development exhibitions.
On the banks of the Vaal River
Betty enrolled at the NWU in 2007 after completing her secondary schooling at Ed-U-College in Vereeniging. While studying at the campus in Vanderbijlpark, Betty obtained a BCom degree in human resource management which she followed-up with a postgraduate certificate in education in 2010.
As a member of the Acacia day residence, Betty enjoyed an active student life and served in various student leadership positions. She served as treasurer and transformation officer, vice-primaria and primaria of Acacia, as well as a term as arts and cultural officer of the student Representative Council.
As for the future, Bettie sees herself completing her master's degree in five years' time, and if not assuming a great leadership role, then being at the helm of her own business.  "I have learnt so much from the NWU and will forever be thankful for the lessons and opportunities granted to me." Read more about Betty in the latest edition of the NWU Alumni Magazine by clicking on this link: http://www.nwu.ac.za/sites/www.nwu.ac.za/files/files/i-media/nwu&uENG042017/betty-mahlatsi.html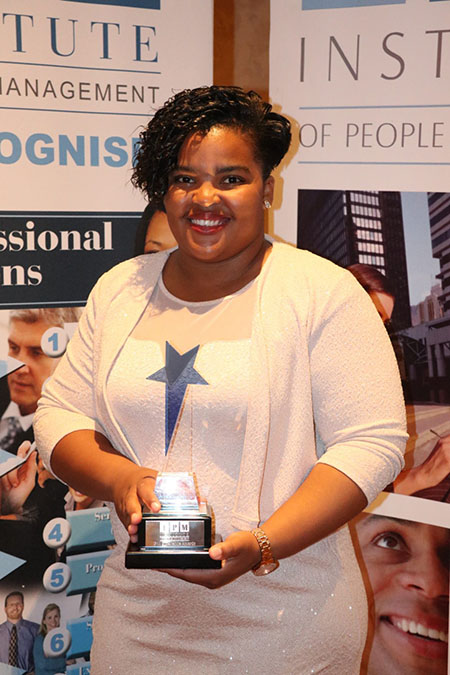 Betty at the award ceremony.