NWU academics motivated to find water crisis solutions
For the past few years a number of areas in South Africa have been battling with water crises. The Water Research Commission (WRC) recently visited the North-West University (NWU) as part of their roadshow campaign to address this issue.
The aim of the road show was to motivate academics to submit innovative water solution proposals that will benefit South Africans.
"We have been going around the country mobilising universities and other organisations that are interested in submitting proposals and getting funding from the WRC. We are inviting high-standard scientific proposals with new ideas that will address the water crisis and will benefit the greater public," said WRC research manager, Prof Sylvester Mpandeli.
Calling on all academics
The WRC's campaign at the NWU comprised a detailed information session about the organisation's intellectual property management system and how academics should go about when applying for WRC funding.
The organisation uses the WRC Knowledge Tree, a fundamental guiding framework with six impact areas to define, measure and evaluate research impact.
According to Prof Mpandeli all submitted proposals must be able to fulfil at least one of these impact areas within the WRC Knowledge Tree:
Empowerment of communities
Informing policy and decision making
Development of new products and services for economic development
Providing sustainable development solutions
Contributing to transformation and redress
Leading capacity development in the water and science sector
"The WRC looks forward to receiving ground-breaking research from the NWU," concluded Prof Mpandeli.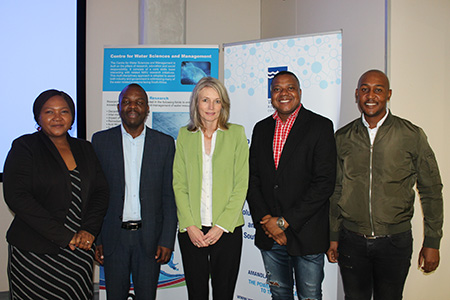 Here are from left Hlengiwe Cele, Prof Sylvester Mpandeli, Ingrid Dennis, Thabo Mthombeni and Sifiso Mazibuko at the recent WRC workshop.