NWU academic presents inaugural lecture on human resource management
Prof Nico Schutte from the Faculty of Management and Economic Sciences delivered his inaugural speech on 12 April 2018 on the North-West University's (NWU's) campus in Mahikeng.

The topic of his lecture was "HR 5.0 – From Digitisation to Digitalisation", based on his extensive research in the field of human resource management.
According to Prof Schutte there is a growing expectation of HR professionals to be ready and able to respond to the global digitisation war that is transforming and rapidly changing HR through technology.
As a result, new technical knowledge, skills and abilities are required by future HR practitioners to enable them to be agile and willing to deal with the ever-accelerating pace and often unpredictable changes in the global workplace. Prof Schutte said that HR professionals need to assess the implications of this technology movement which is resulting into an era of decentralisation. This new era will require a new type of organisation, based on a different system that can bring together the contribution of autonomous individuals in a socially sustainable way. He said that it is therefore clear that a new way to manage HR as a system is emerging, as well as the way in which new HR managers should manage themselves.
In 2015 Prof Schutte developed and validated a professional HRM competency model that can guide the professional conduct of HR practitioners globally in 2015. The model consists of three main HRM competency domains namely Professional Behaviour and Leadership, Service Delivery and Execution and Business Intelligence. Each of these competency domains consist of four sub competencies. He decided to combine this model with his practical experience in e-learning and technology and to develop the HR 5.0 model for the increasingly technological world of work. The model will guide HR professionals to equip their organisations for the digital age by playing a more significant role in digital transformation and challenging the status quo.
Prof Schutte has two PhDs to his name. His first PhD is in the field of public administration where he developed a strategic model for government leaders. He also won the best conference paper award for a presentation based on this study. His second PhD is in industrial psychology.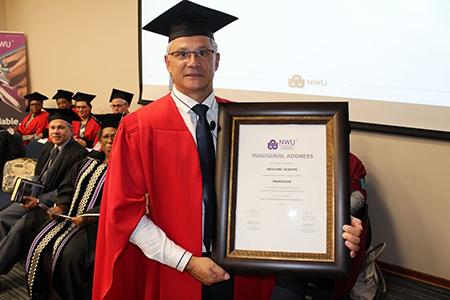 Prof Nico Schutte proudly displays his inaugural address certificate. The topic of his lecture was "HR 5.0 – From Digitisation to Digitalisation