NWU academic participates in World Media Economics and Management conference
Prof Ravinder Rena, a North-West University (NWU) academic in the Faculty of Economic and Management Sciences, was invited to be a panel speaker and chairperson of a technical session at the recent World Media Economics and Management Conference (WEMC).
The conference theme was "Media Management in the Age of Tech Giants: Collaboration or Co-competition?"
This was the first time the conference took place on the African continent, and Rhodes University hosted it in Cape Town.
The WEMC is the leading biennial meeting of the global community of media business and media management scholars. It brings together leading scholars from around the world to reflect on contemporary issues in the economics and management of media industries and firms.
Established in 1994, the conference has previously met in Sweden, Switzerland, the United Kingdom, Spain, Portugal, Finland, Canada, China, Colombia, Greece, Brazil, and in New York in the United States of America.
 The 2018 conference was attended by dignitaries, media practitioners, journalists, scholars and academia from North and South America, Europe, Australia, Asia and the African continent.
The next conference will take place in 2020 in Italy.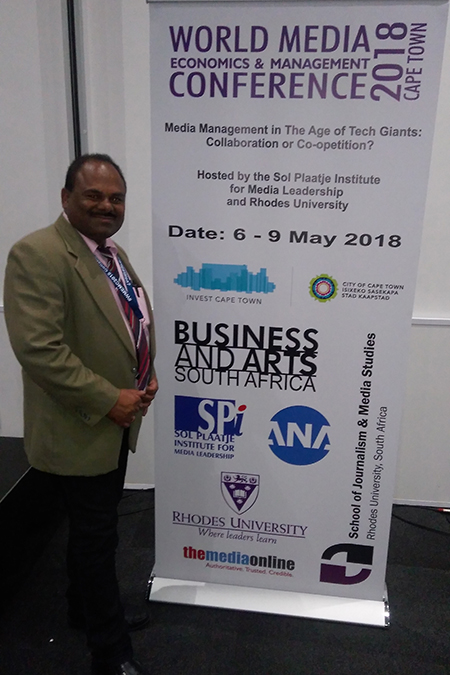 Prof Ravinder Rena attends the recent World Media Economics and Management Conference in Cape Town.