NRF honours NWU researcher for excellence in science education
Science can open up a magical world of possibilities and career paths to young learners if they have the opportunity to explore the true meaning of research. Armed with the right skills and enthusiasm, teachers can encourage learners to not only learn about science but actively experience it.
An esteemed and prolific researcher of the North-West University (NWU) has made it his mission to make the wonder of science accessible to school children and give them the chance to experience science in all its fascinating forms. He does this by assisting science teachers in their professional development.
For his dedication, Prof Josef de Beer, research professor in the School of Mathematics, Sciences and Technology Education in the Faculty of Education, has been honoured by the National Research Foundation (NRF) of South Africa.
He received a Research Excellence Award in the science engagement category of the 2019 NRF awards, which were held on 12 September during a prestigious ceremony in Somerset West, Western Cape.
Sustained contribution, nationwide
The Research Excellence Award recognises researchers at higher education institutions who make outstanding contributions to public engagement. The criteria are strict, and researchers are required to have a good understanding of the various areas of science and their contributions must be made over a sustained period.
Prof De Beer has excelled in this. He does active research in various provinces of South Africa and has introduced initiatives such as folding microscopes that school children can use to discover scientific facts for themselves.
Through this award, the NRF encourages academics to contribute substantially to enhancing the public's engagement with and understanding of science.
Receiving an NRF award is a great achievement and Prof De Beer says this is a wonderful honour for him. "It is recognition for many hours of research at various locations in the country."
Team effort
He emphasises that this is a collective achievement. Some of his colleagues who have played important roles in giving his research a national footprint are Dr Neal Petersen, Prof Marthie van der Walt, Prof Elsa Mentz, Dr Lounell White, Tswakae Sebotsa and Benjamin Seleke, to name but a few.
Prof De Beer also acknowledges the role of Prof Lloyd Conley, the executive dean of the Faculty of Education, in creating a supportive community of practice. "The same is true of Prof Elsa Mentz, director of Self-Directed Learning, who creates a research space that inspires," he says.
No stranger to awards, he has also been recognised by the Fuchs Foundation under one of their flagship programme awards. This award, to the value of R2,25 million has made it possible to present short learning programmes to natural sciences and mathematics teachers across South Africa, as well as workshops to school learners on indigenous knowledge related to science and mathematics themes.
The NRF Award is further encouragement for Prof De Beer to continue his research and find new and innovative ways of making science come alive for school learners.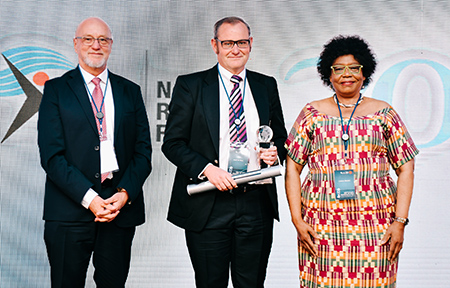 Derek Hanekom, a former Minister of Science and Technology, and Advocate Lindiwe Maseko, member of parliament, congratulate Prof Josef de Beer during the NRF award ceremony.
These are some of Prof De Beer's projects.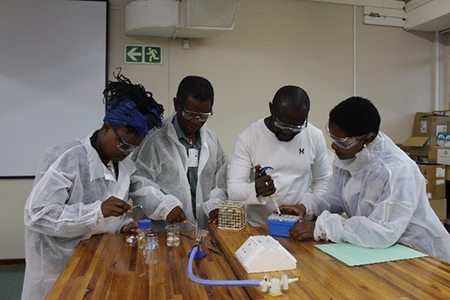 The short learning programmes for teachers were presented across South Africa. Here teachers engage in a Kirby-Bauer protocol to test the anti-microbial activity of muthi (medicinal) plants.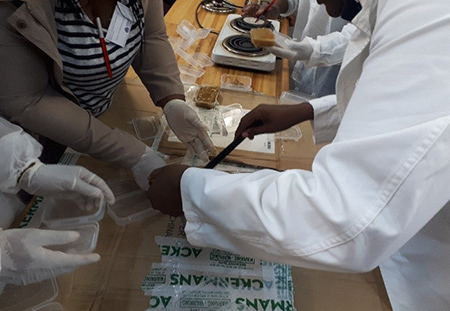 Engaging in soap-making, teachers explore this rich indigenous knowledge.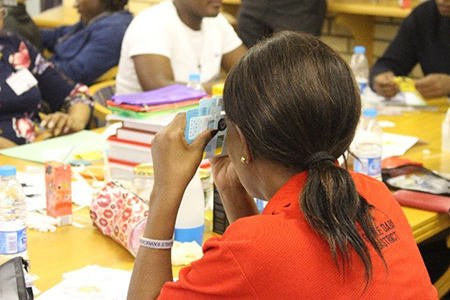 Teachers receive training in folding Foldscope microscopes.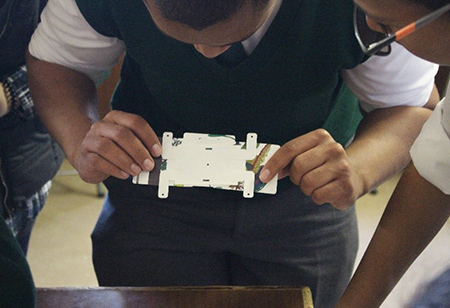 The Foldscope microscopes can be easily assembled and are used by learners to explore the microbial world.