New extraordinary professor to investigate resilience during prestige lecture
The Optentia Research Day that has the North-West University's (NWU's) campus in Vanderbijlpark abuzz with excitement, will welcome a familiar face "back home". Prof Linda Theron, previously part of the university's Faculty of Education, will join Optentia as an extraordinary professor.
She will deliver her prestige lecture entitled "Cultivating humanity: A pathway of resilience?" during the Optentia Research Day, which will take place on 26 September 2018.
Globally young people are challenged by adversities that undermine their well-being and threaten their humanity. Even so, many young people rise above these challenges. A better understanding of the roots of their resilience should help social scientists and practitioners to facilitate adaptations and transformations which have the potential to protect at-risk young people and optimise their capabilities.
During her lecture, Prof Theron will draw on her ongoing work with black South African adolescents and young adults to highlight how human solidarity – in various forms – supports the resilience of African young people.
The examples she will offer will emphasise the importance of interconnectedness to resilience, and will argue for the purposeful cultivation of humanity as a pathway of resilience.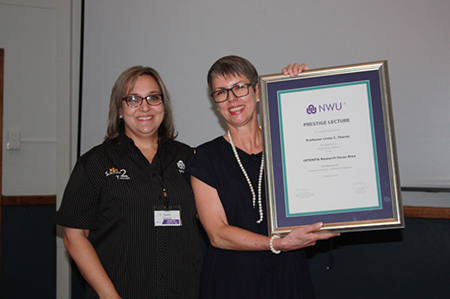 Prof Linda Theron
About the expert
Prof Linda Theron (DEd) is a full professor in the Department of Educational Psychology in the Faculty of Education at the University of Pretoria (UP). She is also an associate of the Centre for the Study of Resilience at UP and now an extraordinary professor at Optentia.
Her publications and research (locally and internationally funded), focus on the resilience processes of young South Africans confronted with chronic adversity, and account how sociocultural contexts shape resilience. She is lead editor of Youth Resilience and Culture: Complexities and Commonalities (Springer, 2015). She is also an associate journal editor of Child Abuse & Neglect (Elsevier) and School Psychology International (Sage).