Municipalities weigh in on service delivery at NWU dialogue
Students on the North-West University's (NWU's) campus in Vanderbijlpark were recently treated to a public dialogue on service delivery and the role of the media in promoting good governance. The municipalities in the area - Sedibeng District Municipality and Midvaal Local Municipality - were invited to weigh in on the issue.
Councillor Zwelibandi Majolo represented the office of the executive mayor of Sedibeng District Municipality. He was pleased to find so many female students in attendance, and commented that a smart society invests in all members of its society, including women. He also said there has been a significant improvement in service delivery since the implementation of the Integrated Development Plan (IDP)* within the municipality, which has proven to be a valuable tool in fulfilling their service delivery obligations to the public.
According to councillor Majolo the key to proper management within the public sector is proper planning. He also identified certain service delivery aspects that will contribute to improve the quality of life for all South Africans. They are among others reinventing and renewing the economy, and reviving and reintegrating good governance to bring about financial sustainability. He concluded by advocating a performance management measurement tool to monitor the level of compliance to the NDP with the intention of improving services.  
Councillor Bongani Baloyi, the executive mayor of Midvaal Local Municipality, praised the NWU for translating academic theory into practice for its students.
He further explained the circumstances behind the public protests that the municipality have been faced with in recent times and the reasons behind it, namely politics and inadequate housing.
He also said that he sees his job primarily as a servant to the people of his community, and that although many municipalities have a mayoral plan that runs parallel with the IDP, the IDP is truly the only plan that is needed. "If we adhere to the IDP, we don't need any other plan. The IDP is the plan."
*The IDP is a five-year plan which local government is required to compile to determine the development needs of the municipality. The projects within the IDP are also linked to the municipality's budget.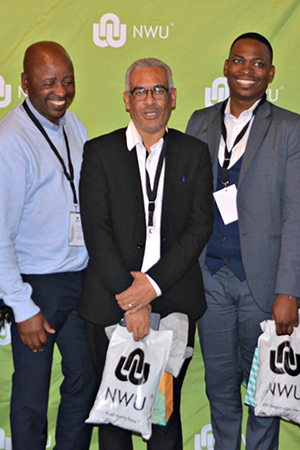 Councillor Zwelibandi Majolo from the office of the executive mayor of the Sedibeng District Municipality, Mr Fick Angelo, news analyst at eNCA, and Councillor Bongani Baloyi, the executive mayor of Midvaal Local Municipality.