Meal-a-Day programme receives a boost
The Meal-a-Day programme at the North-West University (NWU) received a major boost early in the year with the food retailer Tiger Brands agreeing to increase the food provisions it supplies to needy students on the three campuses.
According to Donald Molema on the campus in Mahikeng, they received a firm commitment that the company will now make food parcels available for 342 students every month.
Maggie Matsaneng on the campus in Vanderbijlpark says they have received 235 applications and could supply 72 students with Tiger Brands hampers.
According to Petro Boshoff on the campus in Potchefstroom, 186 students benefitted from the hampers supplied by Tiger Brands.
Donald, Maggie and Petro say these contributions help students tremendously and give a lot of needy students more food security every month.
Petro says they also aim to empower needy students with leadership training courses so that they could eventually lead the project themselves. "We do not only want to take care of their physical needs, but also want to equip them with leadership abilities."
Donald says that the process to register the recipients on the campus in Mahikeng will focus on those in dire need and students without access to meal vouchers.
The Meal-a-Day programme makes a huge impact, ensuring that needy NWU students have access to food on a regular basis, thanks to the food supplies provided by Tiger Brands.
 Anretha Joubert (Student Counselling and Development), Zinhle Sibanyoni (student volunteer), Yudians Phoku (volunteer), Petro Boshoff (social worker) and Lucky Dibe (volunteer) are busy assembling the hampers for needy students on the NWU's campus in Potchefstroom.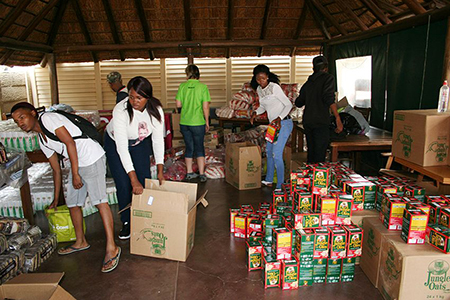 Volunteers help to pack the products donated by Tiger Brands in hampers for needy students.