Listen if you want to fully understand autism
"The ability to listen is essential for professionals and healthcare providers if they want to fully understand and support people living with autism spectrum disorder (ASD) and their families. By listening, professionals will be able to distribute the right information in specific situations to better the lives of individuals living on the ASD spectrum."
Hanlie Degenaar, speech-language therapist at the North-West University (NWU), says this was one of the most important aspects highlighted during the third Autism Symposium of the NWU's Institute for Psychology & Wellbeing and Autism South Africa (A;)SA).
"Professionals learn by also listening to the experiences of people living with ASDs. The information they give is valuable in addressing the various challenges concerning ASD."
She says except for this very important advice, delegates also received practical information aimed at improving the quality of daily living. Topics ranged from the importance of family routines and management of sleep difficulties to overcoming barriers to learning, work-related problems, girls on the spectrum, literacy development and intervention strategies. There was also an insightful presentation on drama groups involving teenagers and children with ASD.
Experts, researchers, individuals living with ASD and their families, healthcare providers, teachers, social workers and academics had the opportunity to engage on various matters of importance during the two-day event that started on 25 June at the NWU's campus in Potchefstroom.
10 principles for intervention
Prof Petrus de Vries of the Centre for Autism Research in Africa at the University of Cape Town, was the keynote speaker on the first day.
He highlighted 10 principles of intervention for ASD. These include comprehensive assessment to guide comprehensive intervention, the fact that no single intervention will work for all, the importance of accommodating and building skills through the core difficulties of ASD and the significance of being family focused in interventions.
Early intervention is crucial, he says. It is also important to understand the meaning of behaviours and to employ evidence-based interventions. He underlined the value of parental education and training coupled with naturalistic development behavioural interventions.
The birth of a symposium
The autism symposium came about after a meeting in 2015 to discuss the lack of services, timely diagnosis and effective intervention for clients in North-West Province. This meeting  involved various roleplayers, all of whom agreed to offer time and expertise to establish a central resource service for educators, health professionals and parents. The Autism Symposium 2016 and the Autism Assessment Unit were the first collaborative initiatives of the Institute of Psychology &Wellbeing.
The symposium has since grown year by year with 212 delegates attending this year after starting out with 69 delegates in 2016 and 149 delegates in 2017.
For more information, contact the NWU's Institute of Psychology & Wellbeing on 018 299 1737 or email IPWinfo@nwu.ac.za.

Prof Petrus de Vries of UCT's Centre for Autism Research in Africa was the keynote speaker during this year's autism symposium. He spoke about interventions for the mental health comorbidities of autism spectrum disorder.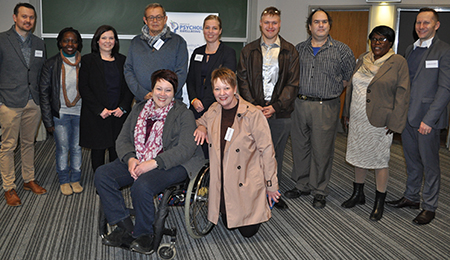 The group of specialist presenters and researchers who gave insightful presentations and participated during the symposium are Rumando Kok of the Institute of Psychology & Wellbeing, Dineo Mosiane, development officer for North West, Autism South Africa, Vicky Lamb, national educator, Autism South Africa, Dr David Griessel, paediatric specialist of the University of the Free State, Dr Liezel Schlebusch, social researcher at the Centre for Autism Research in Africa, Emile Gouws, presenter,  Melt Olckers, presenter, Mary Moeketsi, development officer for Mpumalanga and Limpopo, Autism South Africa, and Dr Kobus du Plooy, master of ceremonies, Institute of Psychology & Wellbeing. In front are Christelle van Eeden, director, North West Mental Health and Hanlie Degenaar, presenter, Institute of Psychology & Wellbeing.
#NWUWomen