The link between climate change and money
The North-West University (NWU) recently hosted a climate change public lecture on its campus in Potchefstroom.
The issue on climate change was looked at from a legal, environmental science, engineering and a financial perspective.Dr Michelle Barnard who is a senior lecturer at the Faculty of Law, Ncobile Nkosi, a social-environmental activist and Markus Koehn, a project development manager at SunFarming, gave presentations on the topic.
Andrew Gilder who has 17 years of experience within the climate change sector was the keynote speaker.Andrew's lecture was based on how climate change is mainly a financial issue. He stated that key decision makers are more likely to listen and take note of climate change when there are penalties to be paid for their contribution to global warming.
According to Andrew South Africa's economy is the most carbon-intense economy in the world. He adds that South Africa has the highest greenhouse emissions on the African continent; and is within the global top two emitters on a per capita emissions basis.
The public lecture ended with a very interactive discussion between the speakers and the guests.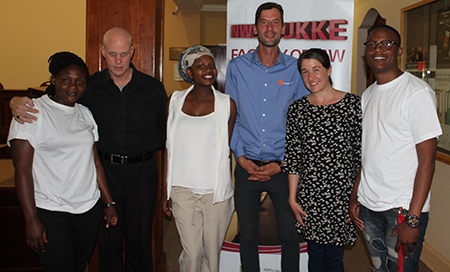 Rachel Lekunze, Andrew Gilder, Ncobile Nkosi, Markus Koehn, Dr Michelle Barnard and John Rantwa took part in the NWU's recent public lecture on climate change.