Learners experience the NWU spirit
The learners of Kwakwatsi Secondary School in Koppies were recently treated to a visit from several representatives from the North-West University's (NWU's) campus in Vanderbijlpark. This friendly visit gave learners the opportunity to experience the caring spirit of the university first-hand. 
Mr Jabu Sithole, a recruiter, shared information on the possibilities of study at the NWU. He highlighted the different courses on offer at the three campuses of the university and explained the Admission Points Score (APS) that is required for admission. 
The Green Campus Initiative (GCI) was represented by Nadine Smit and Sibongile Lauraine Ndweni. The GCI is a partnership between students and staff, with both groups coming together to create greater awareness and insight on how to be a responsible green citizen.
Nadine addressed the learners on the prospects of a career in the environmental sector. She also explained how becoming involved in GCI initiatives once they join the university would be a great way to start such a career path. The discussion furthermore explored the natural biodiversity that our beautiful country has to offer amid enthusiastic participation from the learners.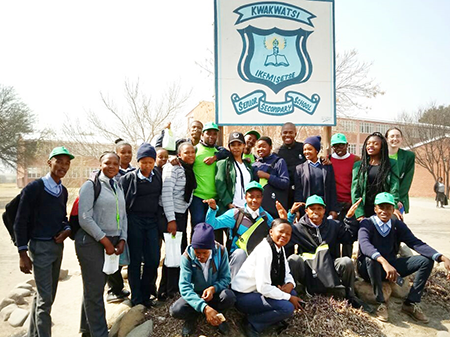 Learners from Kwakwatsi Secondary School welcome the visitors from the NWU's campus in Vanderbijlpark.
While the learner engagement spirits were high, the representatives from some of the different residences on the campus shared their experiences of student life and living in a residence on campus. Jerry Bangude represented Horizon, Lucky Thwala spoke for Vergelegen and Zenia Fransisco and Lebo Chaka represented Thuthuka. The students shared their respective paths to success and took the opportunity to motivate the learners for the challenges that lie ahead, considering that their matric exam is around the corner. 
The day ended well with a question and answer session and time for personal conversation with the speakers.