Knowledge mining boost with new research commons launch
In line with its strategy to promote equitable allocation of resources across all three of its delivery sites, North-West University's (NWU) campus in Mahikeng has officially launched its Research Commons. This follows similar launches at its campuses in Potchefstroom and Vanderbijlpark.

The facility, situated at the library, will provide a state-of-the-art research environment for postgraduate students.
"In terms of strategy, the NWU strives to be among the top five research universities in the country, and as a campus this is our small contribution towards that goal," says Dr Matthew Moyo, Chief Director: Library and Information Services at the campus. "In addition, the university also wants to stimulate graduate throughput."
According to Prof Marilyn Setlalentoa, the campus' deputy vice-chancellor for operations, the Research Commons will provide a conducive environment for researchers.
Services that will be offered at Research Commons include the following:
Bibliometrics and almetrics
Research data management in line with both funder mandates and our commitment to social justice
Training in the use of databases and other Library and Information Services resources with a view to curb academic malpractices such as plagiarism
The Research Commons has sitting space for 34 honours, and 64 master's and doctoral students.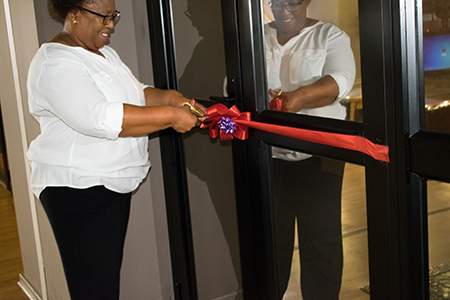 Prof Marilyn Setlalentoa cuts the ribbon signalling the official opening of the facility.
 Dr Matthew Moyo and Prof Setlalentoa (second and third from the left) are joined by library and other NWU staff, as well as the Student Campus Council's deputy chairperson, Sibusiso Digoro.