Investment industry expert to speak at NWU Leadership Summit
Dealing with work complexity has become a major development issue, especially when one considers the uncertain times in which leaders are expected to operate in. With this challenge in mind the North-West University (NWU) Leadership Summit will take place on 10 August 2017.
The summit, which represents a dynamic collaboration between the Ukuvula Foundation and Studio55 Events and Production, will see some of South Africa's most brilliant business and public sector minds come together to share their leadership insights and practices. One such a business mind is Dr Adrian Saville: chief strategist for Citadel & Cannon Asset Managers and a visiting professor at the Gordon Institute of Business Science (GIBS).
His mantra in life is based on the words of Johann Wolfgang Von Goethe (1749-1832): "To think is easy. To act is difficult. To act as one thinks is the most difficult of all."
Dr Saville's investment philosophy is unwavering in his pursuit of value, especially where it means buying investments when they are unpopular or working far from the madding crowd. This skill equips him to find hope where there is despair; to find success in the midst of failure; and to see opportunity when others see disaster.
More about Dr Adrian Saville
Dr Saville's qualifications include a Bachelor of Arts (Honours) (cum laude) and an MCom (cum laude) from the University of Natal. He completed his PhD (Economics) at the University of Natal in 1997, for which he was awarded the Economics Society of South Africa's Founders Medal. He is a UNESCO laureate and a matriculant of Linacre College (Oxford). He has completed programmes in value investing and competitive strategy at New York's Columbia University and Harvard Business School in Boston.
In 1994, while completing his doctorate in economics, Dr Saville formed an investment vehicle which became the forerunner to the investment business, Cannon Asset Managers. In 2013 Peregrine Holdings acquired a majority stake in Cannon Asset Managers. Today Dr Saville serves as chief strategist for Citadel Asset Management and Cannon Asset Managers.
As a highly regarded expert, Dr Saville has experience in managing all of the major asset classes and has successfully combined teaching and business, having lectured at the University of the Witwatersrand, the University of KwaZulu-Natal, the University of Pretoria and the Estonian Business School. He also has taught in Brazil, Chile, England, Estonia, Ghana, India, Kenya, Nigeria, the United States, Zambia and Zimbabwe. Currently, he holds an associate professorship in economics and finance at GIBS, where he teaches macroeconomics, investment finance and competitive strategy.
He has received the Excellence in Teaching Award at GIBS every year since 2007. In 2012 he was nominated for the Economist Intelligence Unit's Business Professor of the Year Award. In 2014 he received the Central and East European Management Development Association award in teaching excellence and in 2015 received a case writing award from the same institution.
During his successful career has vested himself as a top consultant for, among others, the government and the corporate world, including serving as an economic consultant to Visa South Africa. As an author he has published widely in peer-reviewed journals and books, and is also a member of the Investment Analysts Society and Economics Society of South Africa. You can read his views on value investing and the world of capital markets on his website, www.adriansaville.com or follow him on Twitter via @AdrianSaville.
NWU Leadership Summit 2017
This year marks the third rendition of the summit and boasts with an impressive panel of speakers, including: Dr Adrian Saville (chief strategist for Citadel and Cannon Asset Managers), Bonang Francis Mohale (vice-president Upstream and chairperson of Shell South Africa Pty Limited), Prof Raymond Parsons (professor at the NWU School of Business and Governance), Prof Dan Kgwadi (NWU vice-chancellor), Yusuf Abramjee (social activist), Sazini Mojapelo (Group Head: Corporate Citizenship at Barclays Africa), Cllr Bongani Baloyi (Executive Mayor: Midvaal) and Justice Bess Nkabinde (a judge in the Constitutional Court of South Africa).
Proceeds from the summit will go to the Ukuvula Foundation, a charitable not-for-profit organisation that was established to coordinate and fund social development initiatives. The foundation's vision of "making a difference through shared learning, development and empowering people" is underscored by the fact that most of the assistance granted is in the form of bursaries for tertiary education. Students of the NWU will therefore directly benefit from this initiative.
The summit will be hosted at the Birchwood Hotel, Boksburg. For more information and to register, please visit the summit webpage: http://www.nwu.ac.za/leadershipsummit_home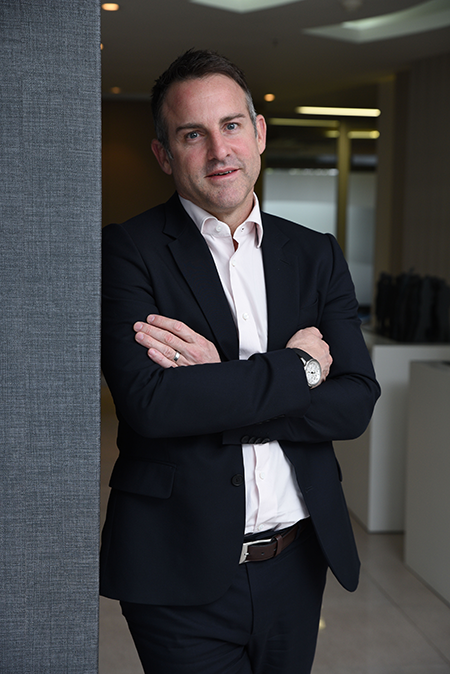 Dr Adrian Saville.