Inaugural lecture focuses on finding solutions for obesity, diabetes and metabolic syndrome
North-West University (NWU) academic Prof Emmanuel Mukwevho spoke candidly about his research overview that focuses of finding therapeutic agents for obesity, diabetes and metabolic syndrome during his inaugural lecture held at the campus in Mahikeng on 15 August 2018.
"My research looks into the chromatin as a centre where events occurs within a cell," said Prof Mukhwevho. "Food with high fat and high sugar content and our lifestyle activities have a huge impact on our genes. These genes perform various functions in a cell to protect us from various ailments associated with our diet and lifestyle activities.
"Studies have shown, for example in diabetes and obesity, that key genes are downregulated in cells, making a person more susceptible to cancer, high blood pressure, osteoporosis, strokes and heart attacks."
Prof Mukwevho's research has shown exercise increases these genes, resulting in key proteins and enzymes being upregulated. The upregulation at protein level increases sugar entering the cell instead of building up in the blood.  
"The chromatin can be modulated by exercise to be either hyperacetylated or deacykated in sedentary mode. Hyperacetylation leads to genes such as PGC-1, NRF-1, MEFA, GLUT and CPT-1 being upregulated, exporting HDACs from the nucleus to the cytosol," he explained. "Reduction in lipids in body weight corresponds with improved good health, for example increased insulin sensitivity and the lowering of blood pressure. Therefore exercise is recommended to maintain healthy blood vessels, and can prevent diabetes by 61%, stroke by 60%, cancer by 49%, and osteoporosis by 53%, among others."
He says that diet is also a major contributor to increasing excess lipids and sugar which is detrimental to one's health. "It has been shown that moderate intake of carbohydrates and lipids with less sodium can improve the overall health of an individual."
Prof Mukwevho's research interest is obesity, diabetes and metabolic syndrome, with a specific focus on molecular pathways and signalling molecules.
Prof Mukwevho has been with the NWU for three years, and has already produced 15 BScHons graduates, seven MSc and three PhDs through an existing collaboration with Prof Kennedy Erlwenger. He has also mentored four postdoctoral students.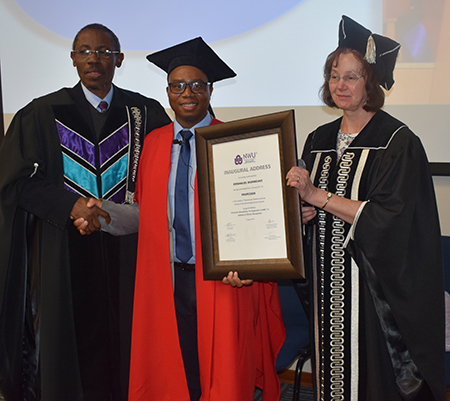 Prof Eno Ebenso and Prof Helen Drummond congratulate Prof Emmanuel Mukhevho (in the middle) after his inaugural lecture.