Goals all the way for NWU Vanderbijlpark
Netball as a competitive sporting code on the North-West University's (NWU's) campus in Vanderbijlpark is going from strength to strength.
A total of 13 players took part in the Gauteng Championships that recently took place at the Isak Steyl Stadium in Vanderbijlpark. The players represented the Sedibeng u.19 and u.21 teams respectively and boast a podium finish. The Sedibeng u.19 A and u.21 A and B earned bronze medals during the championship.
One of the campus players, Chantel Fivaz, will also be taking part in the trials for the world team later this month.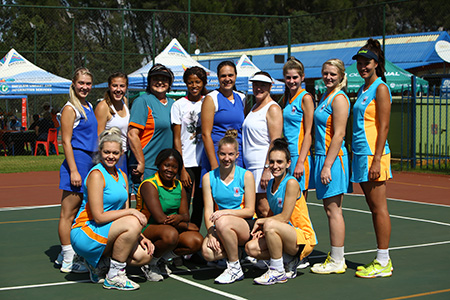 Front from left are:  Carien Nortier (u.21A), Yvonne Moilwa (u.19B), Riette Venter (senior A- team), Chane Marx (senior A-team). Absent: Ofentse Monyaku en Larissa Cranswick. Back: Thanica Wessels (u.21B), Larisha van der Scyff (umpire), Amanda Dreyer (Coach u.21 A), Boitomelo Mato (u.19 A), Marcelle Fourie (u.21 B), Noelene van der Schyff (coach u.21 B), Chantel Fivaz (u.21 A captain), Janine Kramer (u.21 A) and Bonnike Heraldt (senior team captain).  Photo: Ettienne van Rensburg.