Gauteng Biotech Fundi award goes to NWU researcher
Expert, past master, authority, professional, specialist and genius… these are all synonyms for the uniquely South African word "fundi", which aptly describes the North-West University's (NWU's) Prof Anne Grobler, recipient of a 2018 Biotech Fundi Award from The Innovation Hub Management Company.
Prof Anne, director for the DST/NWU Preclinical Platform on the campus in Potchefstroom, was honoured in the research category of the awards, held to recognise organisations and individuals who make a significant impact on the biotech sector in Gauteng.
The annual Biotech Fundi awards originated as a joint initiative between the Gauteng Department of Agriculture and Rural Development (GDARD) and The Innovation Hub Management Company.
"The Gauteng Province needs to be commended on their generous gesture of reaching across provincial borders, especially since our partners are from various provinces and countries," says Prof Anne, referring to the recognition.
Biotech at the cutting edge
Biotechnology is about using biological systems (living cells or parts of cells) to make cutting-edge, commercially viable products.
Prof Anne was honoured for her involvement in establishing two biotech companies, namely HANKS TB Diagnostics and The Pheroid Cluster Incubator. 
Pheroid is a home-grown delivery technology. The Pheroid Cluster Incubator aims to establish biotech-based manufacturing of Pheroid-based products in the North West Province and involves seven commercial partners in the pharmaceutical, cosmetic, wellness and agricultural sectors. For more information on the Pheroid Cluster, please visit www.pheroidcluster.com. 
HANKS TB Diagnostics is a spin-off company of a project that was initiated at the NWU in partnership with the South African Medical Research Council, the University of Nebraska in the United States and BGM Biopharma. The focus of the company is on developing an accurate, affordable, fast and mobile diagnostic test to accurately diagnose and monitor the active tuberculosis (TB) disease.
The test is based on a platform technology that consists of a custom-designed consumable kit and processing hardware that enables sample analysis. Currently the platform technology can diagnose active TB from a sputum sample within 90 minutes at a cost of US$5 and a sensitivity of 95% and specificity of 94% with the inclusion of live/dead organism differentiation. 
What also makes the test stand out is that it boasts the capability of drug resistance testing after initial screening. The test algorithm has a significant cost-saving implication and a drug resistance kit for MDR (multi-drug resistant) and XDR (extreme drug resistance) diagnosis is currently in development.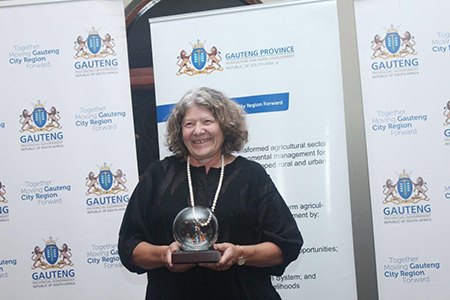 The Innovation Hub Management Company (TIHMC) honoured Prof Anne Grobler with a Biotech Fundi Award.