Game, set and match for Gontse at Autumn Graduation Ceremony
For Sport Science graduate, Gontse Nyawane, victory was sweet when she was awarded the accolade of Excellent Academic Achievement during the recent Autumn Graduation Ceremony of the North-West University's (NWU) campus in Vanderbijlpark.
The Director of the School of Economic Sciences, Prof Wynand Grobler, introduced Gontse to the audience and gave a brief overview of her academic achievements.
Gontse – who was born and raised in Springs, matriculated from Curro Helderwyk in Brakpan. In 2014 she enrolled at the NWU's campus in Vanderbijlpark for a Diploma in Sport Science. Having maintained a good academic performance, Gontse was asked to act as supplemental instructor (SI) for first-year anatomy students during 2015. Throughout her studies she maintained an average of 79,5% in her core modules.
She is currently completing her BTech in Business Administration at the Vaal University of Technology (VUT), and is aspiring to enrol for higher degree studies once she has completed the BTech qualification.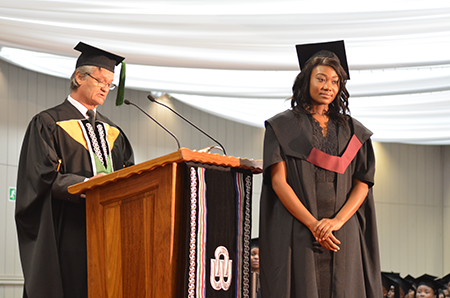 Gontse Nyawane and Prof Wynand Grobler.