Fond farewell to final-year students
The alumni office of the North-West University's (NWU's) campus in Vanderbijlpark recently hosted an afternoon get-together to wish students who are currently in their final year of studies – and who will be joining the world of work as young professionals in 2018 – a fond farewell  
This is however not a final goodbye, says Zanele Ngobese, alumni coordinator at the campus, as this get-together also marked the students' coming of age as alumni members of the university.
About the event
The feeling of excitement was contagious as the final-year students filled the riverside lapa on the campus amid talks of exams, final assignments and participation marks. The festivities managed to divert the attention from all matters academic for a little while and students listened to an address from Prof Susan Coetzee-Van Rooy, the acting deputy dean for research of the Faculty Humanities.
Prof Coetzee-Van Rooy challenged the students to imagine themselves in 50 years' time and write down three things that they would tell their younger selves to do after graduation. She requested the alumni office to record these answers electronically for students to refer to in the years that lie ahead of them. She quoted famous authors on the best choices to be made at the beginning of one's career and the things they wished they knew when they started their careers. In conclusion Prof Coetzee-Van Rooy encouraged the students to register as members of the Alumni Association, wished them a meaningful life and ensured them of her faith in their preparedness for professional life.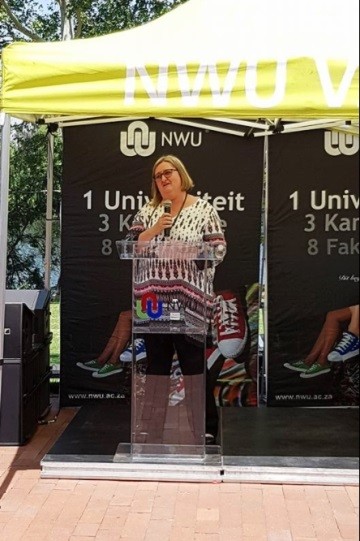 Prof Susan Coetzee-Van Rooy
"When the final year of your studies at university draws to an end and the world of work is beckoning, the transition of student to alumnus ensures that your ties with your alma mater are never broken."  
The day's festivities were concluded with a special thank you by the executive director for corporate relations and marketing, Mr Clement Manoko.