Focus area for Chemical Resource Beneficiation goes from strength to strength 
The Chemical Resource Beneficiation (CRB) research focus area in the North-West University's (NWU's) Faculty of Natural and Agricultural Sciences is going from strength to strength.
Researchers are committed towards adding value to the South African national mineral and chemical resource base foundation in the North West and Southern Gauteng provinces. Herewith just some of the recent highlights and successes of the focus area:
Internationalisation
Marietjie Ungerer, a PhD student – supervised by Prof Cornie van Sittert, Prof Henning Krieg and Mr Derik van der Westhuizen – recently completed a research stint at the Cardiff University in Wales. During her stay, she worked alongside Prof Nora de Leeuw. The visit, that was made possible by the Newton Fund, was part of a PhD exchange agreement between South Africa and the UK.
During her visit, Marietjie received training in the Vienna Ab initio Simulation Package (VASP) and is currently busy with two academic articles pertaining to her research conducted during her stay. She also attended the Catalysis Conference in the UK and presented her work at the conference.  
Prof Cornie van Sittert visited research collaborators Prof Qinghua Lu and Dr Feng Zheng at the Tongji University in Shanghai, China from 11 to 18 May 2018. During this visit she presented two research lectures. After the lectures she engaged privately with students on their projects to provide guidance on the modelling approach.
CATSA 2017 Conference
During the Catalysis Society of South Africa (CATSA) Conference in 2017, Huguette Kishinkwa – who is part of the Electrochemistry for Energy and the Environment programme – was awarded the Best Conference Poster accolade. She is conducting her postgraduate studies under the supervision of Prof Cobus Kriek.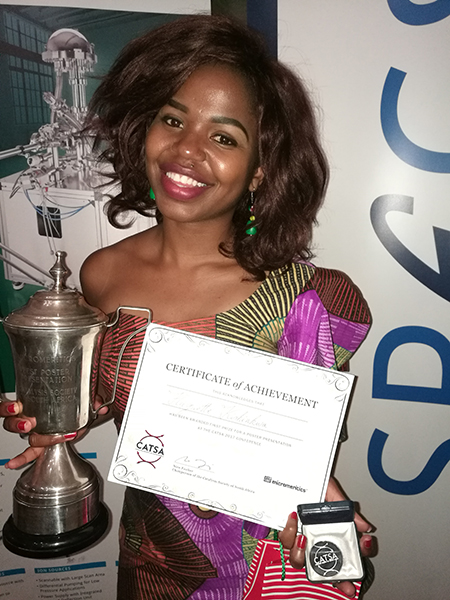 Huguette Kishinkwa.
 
CHPC Conference 2017
 Louise Botha, a PhD-student of Prof Cornie van Sittert, received second price for her poster at the annual CHPC Conference (Centre for High Performance Computing)  at the Velmore Hotel in Pretoria in December 2017.
Chrome Research Group
During March delegates of the Norwegian Science and Technology University in Finland visited Prof Paul Beukes of the Chrome Research Group within the CRB. The delegation was headed-up by Prof Merete Tangstad. During their stay in South Africa, the delegation and members of the Chrome Research Group visited the Manganese Mine in the Northern Cape and collaborated with Canadian natural resources expert, Prof Dogan Paktunc.