Faculty of Natural and Agricultural Sciences committed to community engagement
Staying true to its mission statement, the Faculty of Natural and Agricultural Sciences at the North-West University (NWU) is committed to being socially relevant. This is evident from the faculty's involvement in several community projects across the country.
Empowerment of disaster risk reduction
An innovative partnership between the NWU's Centre for Disaster Studies, the South African Local Government Association (SALGA) and the National Disaster Management Centre (NDMC) will see to it that disaster risk management officials in South Africa will be up-skilled and empowered to face the realities of the profession.
This multi-year project attempts to bring disaster risk reduction knowledge from within the university arena to the local government sphere with a view to improving disaster risk reduction service delivery for local communities.
Dithakwaneng initiative
Another community engagement initiative is underway in Dithakwaneng in the North West province. The project, which also represents a collaboration between the North West Department of Agriculture and Rural Development and Dr Jacques Berner of the faculty's Botany subject group. The project aims to teach the Dithakwaneng community how to produce grain amaranth and to assist them to subsequently sell the grain to manufacturers.
Grain amaranth is a high value, climate change resilient superfood.
On-farm trials at subsistence farming communities
Researchers from the Integrated Pest Management (IPM) subprogramme initiated and leads on-farm trials at subsistence farming communities near Taung in the Northern Cape and Vryburg in the North West province. These trials take place in collaboration with the North West Department of Agriculture, and aim to investigate the effect of Brassicaceae on insects and nematodes, and soil quality.
Workshop on Water Networks
The members of the Aquatic Ecosystem Health subprogramme recently presented a successful stakeholder workshop on water networks in Potchefstroom. The workshop saw representatives from local municipalities, the Water Research Commission and the National Research Foundation taking part. Topics covered included network opportunities, water and sanitation as well as the impact of pollution and challenges in spatial planning of new and existing town/urban areas.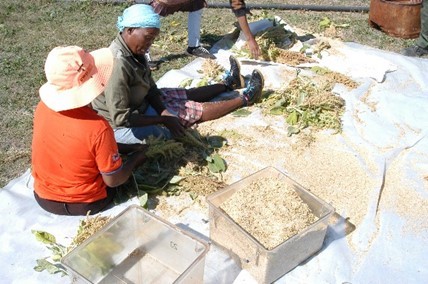 Women of the Naledi Womans Co-op harvesting grain Amaranth