Extended degree programme sees Noluthando achieve top honours

Noluthando Mtshali may be small in build, but she is a force to be reckoned with in the field of chartered accountancy.
During the recent Autumn Graduation Ceremony of the North-West University's (NWU's) campus in Vanderbijlpark, Noluthando – who graduated with a BCom degree in Chartered Accountancy – received the award for Excellent Academic Achievement within the School of Accounting Sciences.
Nolutando was born in Weenen – a small town in the KwaZulu Natal, and was raised in Ladysmith. She attended the Windsor Secondary School and matriculated in 2012 with a distinction in mathematics and IsiZulu. During 2012 she received a certificate for being a top academic achiever, a certificate for consistent effort and was named as the DUX learner (top performer) of Windsor Secondary School. She also scooped up an award for best performance in mathematics.
In 2013 Nolutando enrolled at the NWU's campus in Vanderbijlpark for an extended degree in Chartered Accountancy. In 2014 she took the initiative to become a supplementary instructor (SI) for statistics and in 2016, also for accounting.
Due to her outstanding academic record she was offered membership to the Golden Key International Honour Society. In 2016 she was also awarded a certificate for Best Student of 2015 with an average of 89,7%. For three consecutive years (2014, 2015, 2016) she achieved distinctions in most of her modules, totalling 34 distinctions out of 37 modules. During this time Noluthando maintained an average of 86,1% throughout her studies.
She is currently busy with an honours degree in Chartered Accountancy at the NWU's campus in Vanderbijlpark which will allow her to write the SAICA board exam in January 2018 as part of the path to become a qualified chartered accountant.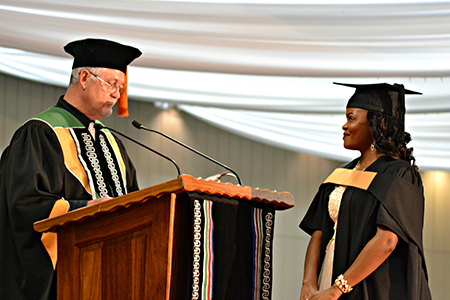 Noluthando Mtshali and Prof Herman van der Merwe.