Executive management leads workshop on NWU identity, culture and diversity
The North-West University's (NWU's) campus in Mahikeng held an Identity, Culture and Diversity workshop on 9 April 2018.
The purpose of the dialogue was to gather stakeholder views, both at a campus and institutional level, on the identity, culture and diversity of the NWU.
The workshop was facilitated by the executive director for corporate relations and marketing, Mr Clement Manoko. Other presenters included the NWU vice-chancellor, Prof Dan Kgwadi, the executive director responsible for student life, Prof Lumkile Lalendle, and the dean for the Faculty of Economic and Management Sciences, Prof Sonia Swanepoel.
During his presentation, Prof Kgwadi emphasised that, "our commitment as a university to strategic imperatives and the vision of a truly unitary identity and institutional culture will, if we remain steadfast in our pursuit, ensure an empowering and supportive learning experience for the many diverse students that are proud to call the NWU their home".
Views expressed during the workshop will be assessed and adopted into policy implementation strategies which would enable effective implementation of a successful NWU brand model. Another outcome of the workshop will be to develop a programme of action. This will ultimately lead to a culture assessment project, entailing specific action steps such as reconfiguration of the Registration and Orientation programme, a revision of residence practices and ensuring a more inclusive university environment for the diverse groups of student and staff.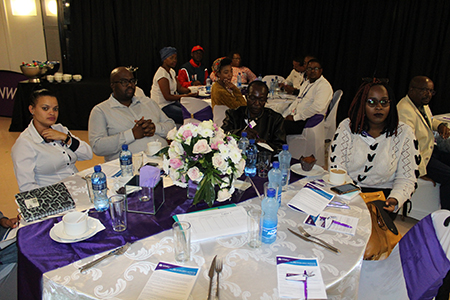 These are some of the attendees of the recent Identity, Culture and Diversity workshop on the NWU's campus in Mahikeng.