Enterprise Risk Management model to aid all industries country-wide
During the recent Autumn Graduation Ceremony of the North-West University's (NWU's) campus in Vanderbijlpark the degree Doctor of Philosophy in risk management was conferred upon Hermie le Roux.
In the appreciation of her study Hermie was lauded by examiners for the development of an Enterprise Risk Management (ERM) model and assessment tool that can be used by all risk practitioners as a guideline for ERM programme implementation and assessment.
Dr Diana Viljoen, her promotor and a senior lecturer in the School of Economic Sciences on the campus, concurs with the appreciation and adds that in a world where a lack of certainty surrounds ERM implementation and, which often prohibits the practice thereof, the model will aid in the wider adoption of ERM within the South African corporate landscape.
The model enables companies to implement ERM in a more succinct and efficient manner. Although ERM will never conform to be a "one size fits all" process, Dr Viljoen explains that this study provides a more uniform process for all industries country-wide.
More about Dr Hermie le Roux
Hermie le Roux was born on 26 April, 1971 in Dundee in KwaZulu-Natal. In 1993, she completed her BCom degree in money and banking from the former Potchefstroom University for Christian Higher Education. She went on to complete her BCom Hons in strategic management at the former Rand Afrikaans University in 1997.
Hermie has had a vast and distinguished career spanning more than 20 years. After graduating, she was employed at Transnet Treasury as an assistant manager from 1993-1998. She then moved to JP Morgan Chase where she was the settlements and funding supervisor from 1998-1999. From 1999-2003 she acted as the senior risk manager at Enterprise Risk Management (PTY) LTD. She was employed at the Industrial Development Corporation (IDC) as a senior asset-liability and risk manager from 2003-2006. In 2004 she completed her MCom in financial management at the University of Johannesburg.
Hermie was appointed as the head of corporate governance and enterprise risk management at the IQ Business Group (PTY) LTD (2006-2008) and the head of enterprise risk management at Cell C (PTY) LTD (2009-2012). She has acted as a risk and strategy consultant from 2012 and serves as a non-executive director at Prepaid24 (PTY) LTD. She has furthermore conducted risk analyses and developed risk management strategies for several banks, insurance companies, professional bodies, state-owned enterprises and municipalities country-wide. As an expert in her field she also developed course material for and lectured at the NWU and the Centre for Applied Risk Management (UARM).
The title of her thesis was "Development of an Enterprise Risk Management implementation model and assessment tool."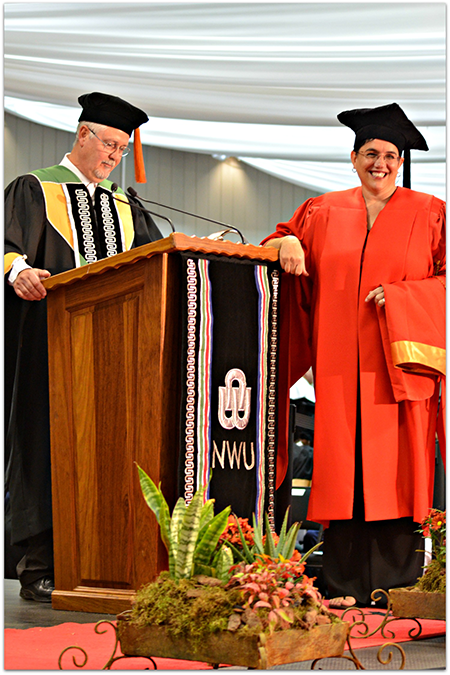 Prof Herman van der Merwe and Dr Hermie le Roux.