Double PhD pride for Leoni van der Vaart           
Leoni van der Vaart is a dynamic 33-year old researcher who is blazing a trail of excellence – nationally and internationally – in the field of industrial psychology.
Leoni received her PhD in industrial psychology during the recent autumn graduation ceremony at the North-West University's (NWU's) campus in Vanderbijlpark. Her PhD is part of a joint PhD programme with the Katholieke Universiteite te Leuven (KU Leuven) in Belgium, from which Leoni will also receive a PhD in psychology. The programme is fostered by the Optentia research focus area on the campus in Vanderbijlpark.
In her thesis titled "The experiences and motivation of unemployed people in South Africa: A person- and variable-centred perspective", Leoni conducted three empirical studies, each using a high-quality dataset, collected in South Africa.
She found evidence in the first study of four types of unemployed people and showed that specific background variables are associated with these four types.
The second study resulted in four job search motivational profiles for unemployed people, where the motivated but structurally impaired group reported the highest level of negative experiences of unemployment.
The third study analysed longitudinal data and showed that basic need satisfaction versus frustration mediates the impact of job search motivation on attitudes and behaviours of the unemployed.
In the appreciation of her study it was stated that Leoni has demonstrated the ability of making an independent contribution to scholarly work on a research subject that is highly relevant for academics, practitioners and the public. Her study has yielded one article in a peer-reviewed publication. Two additional articles are under review by internationally indexed journals.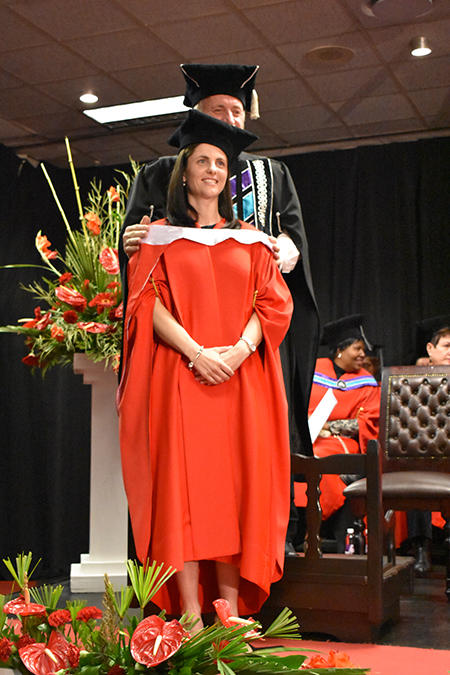 Dr Leoni van der Vaart
More about Dr Van der Vaart
Leoni was born in Parys and matriculated from Hoërskool Sasolburg in 2003. She completed a BSc degree in psychology and nutrition in 2006, followed by a BAHons in psychology, a BComHons in industrial/organisational psychology, a master's in human resources management and a master's degree in industrial/organisational psychology.
She is a co-author of two articles in peer-reviewed journals and a registered psychological counsellor with the Health Professions Council. Leoni has previously worked as a junior lecturer at the Sedibeng FET College, as well as a human resources intern and human resources officer at MTEC. She is currently a lecturer in the School of Industrial Psychology and Human Resources Management at the NWU.
Her study was promoted by Prof Ian Rothmann, who is also the director of Optentia, with Prof Hans de Witte as co-promoter and Prof Anje van den Broeck as assistant promotor. Prof De Witte and Prof van den Broeck are both from KU Leuven and extraordinary professors at Optentia.