Discover the amazing world of 3D printing
We live in a fast-changing world where yesteryear's science fiction is becoming today's reality. Imagine, with the flick of a button, being able to instantly create anything you need or want, from essential parts for appliances to toys and even plastic flowers.
 

You don't have to imagine any longer; with 3D printing anything is possible.

The Eish! visited the School of Mechanical and Nuclear Engineering on the NWU's campus in Potchefstroom and discovered a wonderful world of possibilities.

Recent media articles have predicted that with the many advances in 3D printing, it will become so affordable and easy to use that the average household will have its own 3D printer in the near future.

CP Kloppers, lecturer in mechanical engineering, says this will be a very likely scenario as 3D printers become more sophisticated and readily available.

It all begins with a good design

CP explains that the 3D printing process begins with a design, based on the specific need.

"We have excellent software that we use to create 3D models.

The software gives us standard geometrical shapes which can be customised to create virtually anything."

CP explains how the 3D printer creates objects layer by layer.
 
 
There are other solutions for those who don't want to venture into designing themselves. He says 3D scanning is an effective way of duplicating objects. It entails scanning an already manufactured object so that it can be customised or replicated through 3D printing software.
Corene Möller, final-year student in mechanical engineering, says she would like to specialise in 3D printing for the medical field.

Artificial limbs can already be printed, and research into printing artificial organs and tissue promises to change the lives of patients in dire need of it.

 
The 3D world is an exciting place, with enthusiasts finding more and more ways to be creative and share their designs. "There are also freeware sites such as thingiverse.com, where the 3D community shares models of just about anything and it can be downloaded. If you for instance want to print a toy, you can have free access to templates of anything from Smurfs to Star Wars figurines."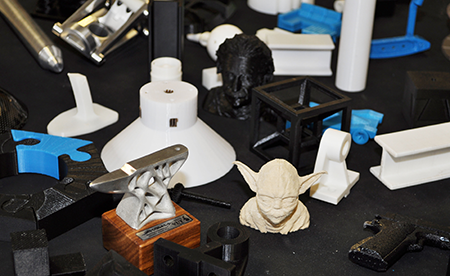 There is no limit to what can be printed and CP says some people even print parts to make their own 3D printers.
This usually takes only a few days.

An affordable way of creating objects
CP says the filament used in printing is very affordable. "It costs about R200 a kg and if you take into account that an average cell phone cover, for instance, weighs about 15g, the cost of 3D printing such an item is much less than buying the product from a merchandiser." In addition to filament, which is available in different colours, other materials such as carbon fibre, fibre glass and metal powder can also be used in printing.
The 3D printers themselves are also becoming more affordable. He says standard, good-quality 3D printers were initially priced between R3 million and R5 million, but these printers can now be bought for as little as R30 000.
Much faster than you think
Although creating 3D objects layer by layer can be time-consuming, it is much faster than one would think. Depending on the object, it can take anything from a few hours to more than a week to print an object. He says smaller objects such as sockets will take about 18 hours and 15-metre wind turbine blades will take a week or more to print.
"With 3D printing literally everything can be produced. It is an exciting world of many possibilities – if you can visualise it you can create it, layer by layer. The future is going to be an exciting place," concludes CP.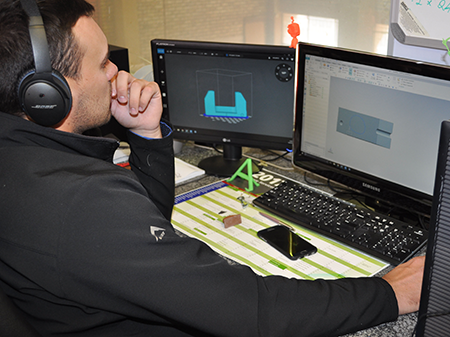 Design is an important element in 3D printing. Neil Britz, research assistant, is busy modifying a 3D template for printing.