Disaster risk reduction: young voices matter
On average, 240 million people world-wide were affected by natural disasters between 2000 and 2005.
South Africa's risk for disasters is also increasing. The country is exposed to a wide range of weather hazards, including droughts, cyclones and severe storms that can cause widespread hardship and devastation.
While these hazards are mostly recognised for their adverse impact, the social risks disasters hold often receive less attention.
A group of postgraduate students from the North-West University (NWU) decided to create a stronger focus on these social risks by launching the South African Youth Centre for Disaster Risk Reduction.
This was inspired by the 4th Biennial Conference of the Southern African Society for Disaster Reduction that the NWU hosted in October.
"We have seen the need to create a platform for youth and children across South Africa and the region," says Anica Pienaar, one of the initiators of the centre. "Through this platform, they will be able to share their perspectives on disasters, the risks thereof and how these risks can be reduced."
Anica says not taking into account young people's viewpoints may obstruct efforts aimed at reducing risks and managing existing disasters. This is especially true for a country like South Africa where most of the human capital comprises youth and children.
The purpose of the centre is to promote and sustain an integrated and coordinated approach to disaster risk management, focusing only on children and the youth.
"The importance of this approach is to ensure that young people are not mistaken for mere victims of life-limiting risks. They should play an active role in shaping the future and promoting overall resilient populations," says Anica.
The centre's goals include ensuring preparedness, response, relief, and rehabilitation and reconstruction measures giving effect to applicable legislation.
Although disaster risk reduction will never guarantee a disaster-free world this initiative will make young voices heard and refocus disaster risk reduction and management where it matters most.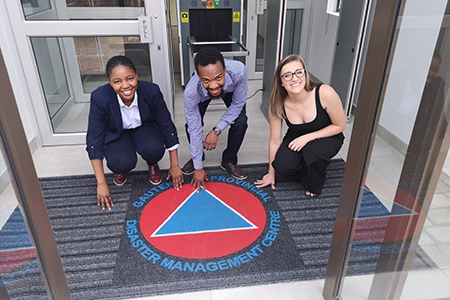 Meet the directors of the recently established South African Youth Centre for Disaster Reduction: Dibuseng Chabana, Tshepo Nkolanyane and Anica Pienaar. Here they are at the Gauteng Provincial Disaster Management Centre during a recent visit.