Decolonising existing qualitative research methodologies
A seasoned scholar has stressed the need to decolonise existing qualitative research methodologies which position the researched as objects in the researcher-researched encounters. This is according to Prof Keyan Tomaselli, a distinguished professor in the Faculty of Humanities at the University of Johannesburg and emeritus professor at the University of KwaZulu-Natal.
Prof Tomaselli spoke about the topic Critical Indigenous Qualitative Research Methodologies. Decolonising what? during a seminar that was organised by the Indigenous Language Media in Africa (ILMA) research entity on the North-West University's (NWU's) campus in Mahikeng.
The presentation exhibited glaring weaknesses of conventional qualitative research methodologies. The general argument proffered in the presentation was the need to deconstruct traditional ways of doing research and to develop methodologies that focus on indigenous knowledge, voices and experiences, thereby decolonising Western knowledge systems and their epistemologies.
He started by providing the background to his interest in critical indigenous qualitative methodologies which stems from his research experiences with the Bushmen in the Kalahari Desert (Botswana). He noted their objectification, the exclusion of their voices in the interpretation of their culture, and that they weren't benefiting from the research.
Using his research encounters with the Bushmen, Prof Tomaselli gave a detailed explanation of the need for critical qualitative research methodologies, as well as demonstrated the stages he followed in developing a participatory communication action research approach which repositions the researched as co-researchers/hosts/subjects in the researcher-researched relations.
Itunu Bodunrin, a PhD student of Prof Tomaselli, then narrated his research experiences in the field as an indigenous researcher and explained the benefits of adopting the method.
The talk generated a lot of interest among the audience as was demonstrated by their active participation during the presentation and the question and answer segment.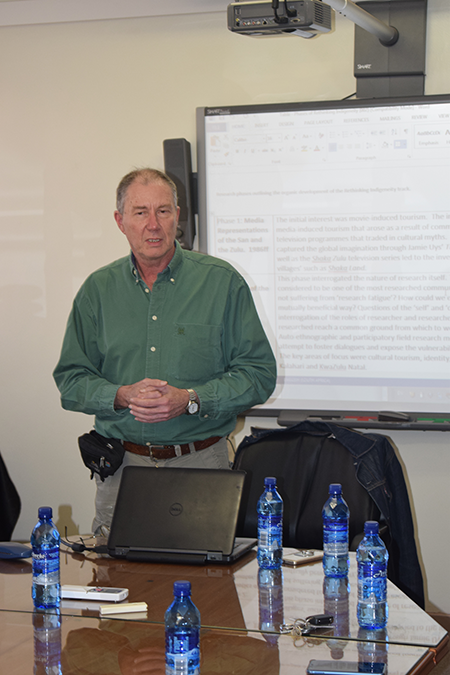 Prof Keyan Tomaselli, a distinguished professor in the Faculty of Humanities at the University of Johannesburg, spoke about decolonising existing qualitative research methodologies.