Deaf student breaks boundaries
Higher education institutions in South Africa have been confronted with various changes in recent years, urging them to keep up with the times, adapt and grow.
The North-West University's (NWU's) dream to be "an internationally recognised university in Africa, distinguished for engaged scholarship, social responsiveness and an ethic of care" sets it on the right course to provide an inclusive environment to accommodate all.
Letlhogonolo David Lesejane demonstrated this when he graduated with a BSc degree in environmental and biological sciences from the NWU's campus in Mahikeng during the recent autumn graduation ceremonies.
What makes Letlhogonolo so special?  He was declared deaf after contracting Meningitis while in Grade 8, which led to the shrinking of his hearing nerves.
Though faced with adversity, Letlhogonolo persevered and finished high school in time and enrolled for his tertiary studies at the NWU as a full-time student.
However, his road to completing his first degree was not without challenges, shared his proud mother Gadifele Sebogodi Lesejane. "We often liaised with the Disability Unit on campus to keep track of how they could assist Letlhogonolo and whether he responded positively to these interventions."
"I'm just so grateful and thank God for saving his life after his illness and giving him strength to carry on," she adds. "I am so proud of him - he is showing young kids that having a disability does not mean that you cannot succeed in life. If you want something and really work hard, you will get it."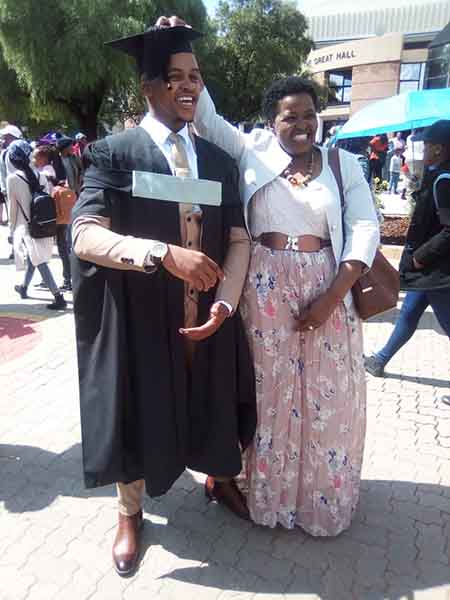 Smiling broadly are deaf student Letlhogonolo Lesejane and his proud mother, Gadifele Sebogodi, after he graduated from the NWU.