Career counselling- take a child to work
An 18-year old student enters the university gate with nothing but a brown envelope and hope.
Would she be accepted as a late applicant? She does not know if her dreams of studying graphic design would be thwarted; since applications and selection was already completed the previous year.
This scenario illustrates a common problem that a lot of students face. Many end up opting for majors they weren't that interested in in the first place.
On the other hand, some are never given an opportunity to make that decision. They are merely forced to study something against their will due to inadequate career counselling at school.
The North-West University's (NWU's) Faculty of Economic and Management Sciences aims to bridge this gap and to address inequality with their community engagement project, "Take a Child to Work". 
This project is derived from "Take a Girl Child to Work," which is an annual corporate social investment event, held in South Africa since 2003. In this instance 20 Grade 9 learners from Mareetsane Secondary School joined various experts from the faculty on the campus in Mahikeng on 15 October to have a "near future" conversation.
The objective of this event was to mentor the learners to enhance their self-esteem and to inspire and expose them to the university environment. Learners were motivated to reach their full potential and achieve their dreams, regardless of any challenges or circumstances they might find themselves in.
Faculty administrator Disekwane Mheta gave the future students an overview of career possibilities within the faculty. She also explained the Admission Points Score system and told them which subjects are required for specific careers.
"If your maths marks are too low you can follow an accelerated programme. This will help you to enhance your marks and qualify for our programmes," explained Disekwane.
Although the acceleration programme does not change a learner's marks on their matric certificate, this will give them the opportunity to study towards a career of their choice.
Learners were also allocated "NWU staff parents" to assist them during the different sessions.
Ending the event with a bang, these future students were excited to walk around on campus, getting a glimpse of all aspects of varsity life.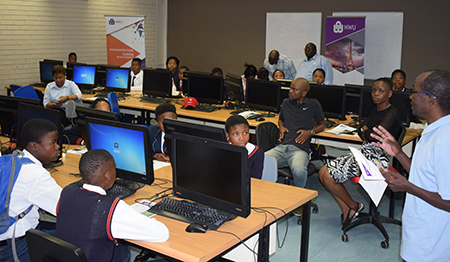 Grade 9 learners from Mareetsane Secondary School learn more about the NWU's Faculty of Economic and Management Sciences on the campus in Mahikeng.