BRICSEd crosses borders in Africa and beyond
Over the years the North-West University (NWU) has made a name for itself as one of the top universities in the country. Now the NWU is part of a broader initiative, BRICSEd, to take quality education to countries across Africa and beyond.
BRICSEd is an international association made up of Brazil, Russia, India, China and South Africa, the five member states of the BRICS economic block. It is a new education research initiative conceived at the NWU and aimed at promoting excellence in educational practice across the five BRICS countries, the African continent and internationally.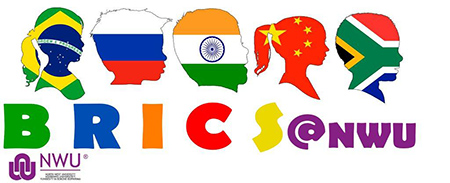 The association is affiliated to BRICS@NWU, a digital and interactive platform of the NWU that links BRICS tertiary training institutions, researchers and academics with one another to support joint projects, training and research. Prof Refilwe Phaswana-Mafuya, the deputy vice-chancellor for research and innovation, is the custodian of the BRICS@NWU initiative.
The new association, BRICSEd, was founded by Dr Ewelina Niemczyk, Dr Deon Vos and Dr Louw de Beer from the Comparative Education subject group at the Faculty of Education, and Mr Theo Bekker from the vice-chancellor's office. It was founded in cooperation with Prof Elsa Mentz, the acting executive dean of the Faculty of Education, Prof Kobus Mentz, the director of the School of Professional Studies in Education, prof Hennie Steyn, professor emeritus (former dean of the Faculty of Education) and Prof JP Rossouw, the research director of Edu-HRight.
"The association was established based on the importance of education to the development of the emerging economies of Brazil, Russia, India, China and South Africa," says Dr Niemczyk, BRICSEd president.
Sharing of knowledge among states
The association is passionate about the exchange of effective educational practices among member states.
According to Dr Niemczyk, BRICSEd intends to promote teaching and learning through collaboration and exchange of information among educational institutions, universities, research institutes, researchers and students.
BRICSed will focus on:
Promoting quality research in the areas of BRICS education
Establishing vibrant relationships with other institutions and educational associations
Facilitating international exchanges between researchers and students in BRICS nations
Assisting young scholars and graduate students in conducting research related to the BRICS agenda
Organising conferences, seminars and workshops
Publishing resources/literature related to BRICS education
The association also aims to engage and share all its educational knowledge and skills with institutions from other African countries. "African countries who are interested in the sharing of research and information are welcome to engage with the association," concludes Dr Niemczyk.

For more information please contact Dr Ewelina Niemczyk at ewelina.niemczyk@nwu.ac.za.