Basketball Tournament a slam dunk
Administrators, players and supporters are in agreement that the fourth annual Sasol/NWU Vanderbijlpark Senior Basketball Tournament was not only a showcase of exceptional talent, but also a well-organised event.
The tournament – which represents a collaborative venture between the North-West University's (NWU's) campus in Vanderbijlpark and Sasol – drew to a close on 4 March 2018 at the Harry Gwala Multipurpose Sport Complex in Zamdela.
Even though the NWU Vanderbijlpark's men and women teams did not succeed in walking away victorious, both teams qualified for the finals in their respective divisions.
Men's final
The Phoenix Flames from Pretoria took the top honours by beating the team from Vanderbijlpark by 78-54. The visitors attacked the hoop from the word go and established a 10-point lead early on. The NWU Vanderbijlpark fought back hard in the second half but to no avail.
The podium winners were:
1st: Phoenix Flames
2nd: NWU Vanderbijlpark
3rd: Randburg Rhinos
The following players were named as Tournament All-stars:
Kevin Romenoh, Phoenix Flames
Kampard Kibikiabo, Rhandburg Rhinos
Everisto Pasipamire, Phoenix Flames
Tumelo Kekana, NWU Vanderbijlpark
Tinotenda Chirara, NWU Vanderbijlpark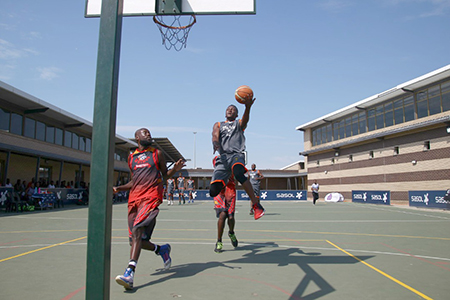 Action on the court.
Women's final
The women's final saw neighbours NWU Vanderbijlpark and VUT taking each other on for the spoils. The team from VUT enjoyed a comfortable win of 82-46 against NWU Vanderbijlpark.
The podium winners were:
1st: VUT
2nd: NWU Vanderbijlpark
3rd: Braam Marines
The following players were named as Tournament All-stars:
Dayna Mudlovo, VUT
Phindile Nkosi, NWU Vanderbijlpark
Modiegi Mokoka, Braam Marines
Lindiwe Shabangu, VUT
Keitumetse Molisane, VUT
Action during the women's final.