A balancing act: passion for sports and academic studies
Is it possible to balance a successful academic career with a passion for sport? In short: yes. The sky is the limit for focused and dedicated athletes, and with the right attitude, a person can achieve great things in more than one area.
Born and bred in Heilbron in the Free State, Moses Radebe, a student at the North-West University's (NWU's) campus in Mahikeng, is a prime example that academics and sport do mix.
Moses takes his studies seriously. He holds a BSc in physics and computer science, a BScHons and an MSc in applied radiation, and is currently enrolled for a PhD in radiation science.
His fascination with radiation science was sparked by the impact naturally occurring radioactive material can have on the environment and human life, as well as the technologies that detect radiation exposure and possible treatments. He is also interested in ways to strengthen nuclear security, especially in South Africa.
However, science is not his only passion. Since he joined the university, Moses has also developed a great zeal for Morganti Jiu Jitsu, having many provincial and national achievements under his belt.
Moses was named the provincial champion of stand-up-fighting in 2015, and in 2016 he became the South African national champion in the Kata division. That same year he progressed from a red to a black belt, and was crowned world champion for stand-up fighting at the World Morganti Jiu Jitsu Championships in Brazil.
In 2017 he once again walked away with the spoils as the South African Jiu Jitsu champion for grappling (ground fighting), and in 2018 he received a gold medal for grappling at the South African Championships.
He recently participated in the South African Jiu Jitsu Championship qualifiers for the 2019 World Championship, and walked away with a gold medal for Kata and team Kata.
To top it all, Moses was announced the campus' Sportsman of the year for 2016 and 2017.
He is also involved in sports administration and is the deputy chairperson of the All Sports Council on the campus.
Moses says balance and time management are very important.
"Balance is crucial for any student athlete – competitive sports and academics need to work side by side."
He says students who want to succeed in sports and also do well academically should push themselves and never settle for second best.
"By believing in your own abilities, you can excel both on and off the sporting arena," he adds.
If not on the jiu jitsu mat or in class, Moses enjoys cooking and taking photographs.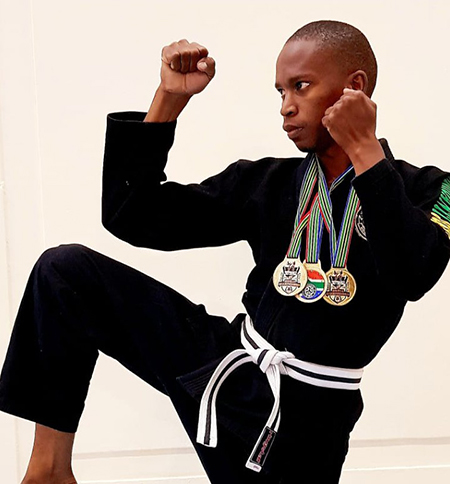 Moses Radebe.