Another extraordinary professor for Optentia
Not many African universities approach the African Union (AU) to ask: "How can we be part of the solution?" This is according to Prof Johnny Strijdom, head of the Division of Social Welfare and Drug Control within the AU and new extraordinary professor at the Optentia research focus area on the North-West University's (NWU's) campus in Vanderbijlpark.
During his recent prestige lecture, Prof Strijdom praised the NWU for seeing the bigger picture and bringing about actual change by playing a role in translating research into policy. He continued by identifying the three key decisions that the heads of state of the AU member states approved during the 30th AU summit:
Adoption of the protocol to the treaty: "Establishing the African Economic Community Relating to Free Movement of Persons";
the launch of the single African air transport market aimed at liberalising intra-African air transport services and;
to attend an extraordinary summit later this year to deliberate on the Continental Free Trade Agreement.
According to Prof Strijdom these decisions embody the strong drive towards regional integration, which he refers to as being "the sharpest tool in the AU's economic development toolbox" in its mission to stimulate trade and eliminate poverty.
Agenda 2063
Prof Strijdom continued his lecture by illustrating how the different research subprogrammes of Optentia speak to the different aspirations of Agenda 2063. Agenda 2063 is a strategic framework for the socio-economic transformation of the continent over the next 50 years. It builds on and seeks to accelerate the implementation of past and existing continental initiatives for growth and sustainable development. 
According to him all subprogrammes at Optentia are relevant and differentiate each aspiration in a unique way. Every aspiration comes with potential "gaps" that can be addressed by the research in the different subprogrammes.
Prof Jaco Hoffman, research professor and leader of the subprogramme Ageing and Generational Dynamics in Africa (AGenDA), congratulated Prof Strijdom on his appointment and welcomed him into the ranks of the research focus area.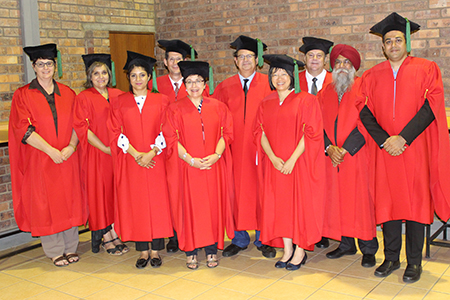 The procession at the prestige lecture of Prof Johnny Strijdom was certainly representative of the international nature of the Optentia fraternity. From left are Prof Mirna Nel, Prof Ansie Fouché, Dr Puneet Kaur, Prof Jaco Hoffman, Prof Vera Roos, Prof Johnny Strijdom, Prof Sufen Chen, Prof Ian Rothmann (Director: Optentia) Prof Manjit Singh and Dr Amandeep Dhir.