3-D printing to improve life
Staff and students at the North-West University's (NWU's) Engineering Faculty are in the process of giving the traditional way of manufacturing products a huge blow. They are now using their wide variety of world class three-dimensional printers.
According to CP Kloppers, a lecturer in mechanical engineering, the purpose of this easier and faster way of manufacturing is to give the community access to products that will make life a bit easier.
"We have three-dimensional printers that can basically print any product from plastic, various types of metals and carbon fibre," he says. "If a household product may have broken, or you need to manufacture an ornament, toy, invention or part of a specific device, we're here to assist in manufacturing it at a very affordable price. We have even manufactured artificial limbs."
The Makerspace Center was established at the School of Mechanical Engineering in Potchefstroom to do just what it says – to take product ideas from individuals and to help them create a final, useful product.
CP says they already deliver a variety of products at commercial level, but their aim is rather to promote the growth of this technology.
"We manufacture a few parts for a South African aviation manufacturing company which then supplies it to Boeing and Airbus. For this purpose, we must meet the highest standards and use only the best materials. Because of the fact that we are part of a university, our goal is not to make money from this, but rather to promote research outputs," he says.
Human cells can be used in the future
The 3-D printer revolution is relatively new to South Africa, and CP believes it will cause a total change in the commercial and medical manufacturing industry.
"A lot of funding and research are spent on this at international level. We recently bought a bio-printer which enables us to print organic material. The reality of this is that human cells can be used to be reproduced as human tissue."
This may sound absurd, but theoretical research has already shown that bio-printing technology can print "living" skin, organs, a nose or an ear that originates from a person's own cells.
In the event of injury to a person in a fire or car accident, the individual's own cells can be reproduced and transplanted as human tissue. The chances are then quite slim that it will be rejected by the body, mainly because it is reproduced from the same original tissue.
Even though this is a reality that might only be available in future, the point is that this technology already exists. "More research still needs to be done and ethical clearance must be in place before we can start experimenting with this," he says.
Community involvement promotes awareness
CP says they have, as part of their community involvement, equipped a centre in the Ikageng township with various entry level 3-D printers and computers to create awareness about this technology.
"We have a few master's degree students who visit the centre on a weekly basis to evaluate community members' manufacturing ideas and assist them with expertise. We then train them to work with a 3-D printer. The aim is to manufacture a product that will improve individuals' lives.
"The Department of Science and Technology provides funding for this and sees it as a way to stimulate entrepreneurship. If an individual designs and manufactures a product, it may lead to a business that will make a positive contribution to the country's economy," he says.
With this manufacturing facility, the NWU aims to positively influence students' thinking by demonstrating that nowadays, the production or manufacturing of almost anything is possible.
"With this technology we can move away from slow and often unaffordable manufacturing processes. We must use it to our advantage," CP says.
For more information please contact CP Kloppers at 018 299 1316 or cp.kloppers@nwu.ac.za.
A 3-D printer in action.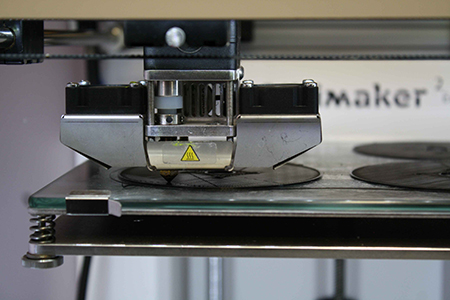 These are examples of products that were printed with a 3-D printer.