Young NWU scientist rub shoulders with Nobel Prize winners
Few scientific events are more prestigious than those where Nobel Prize winners share their knowledge. Retha Peach, a doctoral student from the North-West University (NWU), is being given the rare opportunity to attend a gathering where 31 Nobel laureates will be present.
Retha is one of five scientists whom the Academy of Science of South Africa (ASSAf) has hand-picked to participate in the 67th Lindau Nobel Laureate Meeting in Germany from 25 to 30 June.
She and 400 other chemists, all under 35, take part in a six-day programme of lectures and panel discussions. In all, 76 countries are represented and 31 Nobel Prize winners will attend.
Retha is a doctoral student in Chemical Resource Beneficiation, a research entity on the NWU's campus in Potchefstroom, and was named the best master's student at the faculty and the focus area in 2014 and 2015.
Studies open new world of research
As a female scientist, she says times have changed and women have the confidence to pursue opportunities and aspire to greater heights because they are passionate about their research.
Retha says her BSc studies and exposure to chemistry opened an entirely new world of research possibilities to her. "I was determined to continue and realised that research is my passion, a way to contribute and be part of the solution in a world that needs change."
Born in Bethlehem in the Free State, Retha moved to Klerksdorp with her parents 15 years ago. "My two teachers, Theresa Buys (mathematics) and Annelise Ferreira (science) at Klerksdorp High School laid the foundation on which I could build further at university."
Commenting on her trip to Germany, she says: "It is a special honour to represent South Africa as a chemist, but it carries a great responsibility. I am very excited to share my research experiences and ideas with other young researchers from across the world and the Nobel Prize winners."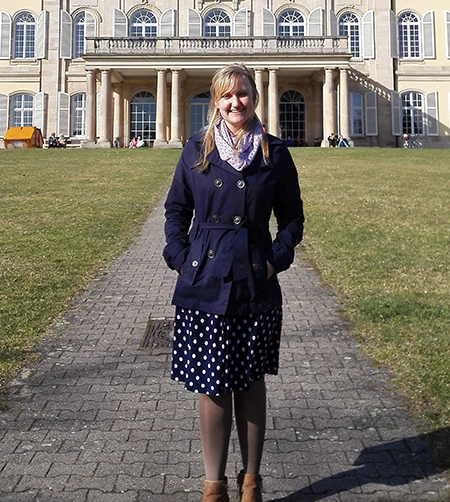 Retha Peach.