Tim takes the women's game forward
He believes in the intangible, and that conviction transcends all earthly confines. He often turn his Bible to Hebrews 11 verse 1, for there he finds the motto he lives by. "Now faith is confidence in what we hope for and assurance about what we do not see." It is the needle that guides Timothy Qumbu's compass.
The 30-year old former Free Stater – who matriculated from Sasolburg High School and completed his BTech at the Central University of Technology and a BA in human movement sciences at the University of the Free State – is in a jovial mood.
And, so he should be. Timothy recently returned from a very successful trip to the United Kingdom (UK) as strength and conditioning coach of the South African Women's XV team.
"It was great!" he exclaims. "As is the case with the UK, the weather wasn't very sunny; there was a lot of drizzle and cloud cover, but the temperatures were lovely. The girls haven't played international rugby since 2014 and the team only had about a week-and-a-half to prepare, so our expectations weren't that high."
That proved completely unnecessary. The team impressed all and sundry with their unstoppable performance. On 14 October they beat the British Army 27-5 in what proved to be the biggest upset since Isandlwana. Then, four days later, they faced the England Academy in Aldershot, with the hosts boasting a number of England internationals who played in the Women's Rugby World Cup in August. The sides were tied 12-12 at the break before the Academy won 48-12. The final tour fixture was against the same team on Sunday 22 October, which the South Africans narrowly lost 15-12 due to a penalty at full time.
"There were so many good points to take from the tour and I'm absolutely positive that our women's fifteen-a-side game will only improve. We dominated our opposition physically; in fact we made them look like softies," Timothy jokes. "We just need to focus more on our skills and fitness. I know that one day we can be the top-ranked team in the world."
When not next to a rugby field, Timothy – or Tim as he refers to himself – is a lecturer at the School of Biokinetics, Recreation and Sport Science at the NWU's Faculty of Health Sciences. His wife of two years, Bronwen, is a lecturer at the Faculty of Law at the campus in Potchefstroom.
"I feel so blessed to be able to make my living here at the university," he says proudly.
Tim is also an avid golfer, having taken up the game three years ago. "I wish I discovered the game sooner in my life. There is a lot less bumps and bruises than in rugby."
He would know. As rugby player Tim was a promising fullback, but at U19 level he tore his anterior and posterior cruciate and medial collateral knee ligaments. The proper rehabilitation care wasn't taken and that meant an end to his rugby career. Somewhat…
"I've always dreamt about playing for the Springboks, and now my goal is to be the Springbok's sports scientist. I still want to be there, just in another capacity. I believe God has a plan for all of us. He tests us, but He also guides us. I trust Him." Hence Hebrews 11:1.
Tim describes himself as deeply religious and his involvement in his church as well as the church's youth programme ("I love giving back to the youth") is one of his life's great passions.
And then there is rugby. "I appreciate the camaraderie of rugby the most. And I love the diversity. There is a place for everyone on a rugby team, from the biggest to the thinnest. There is a place for 15 different body types and that is unique to rugby."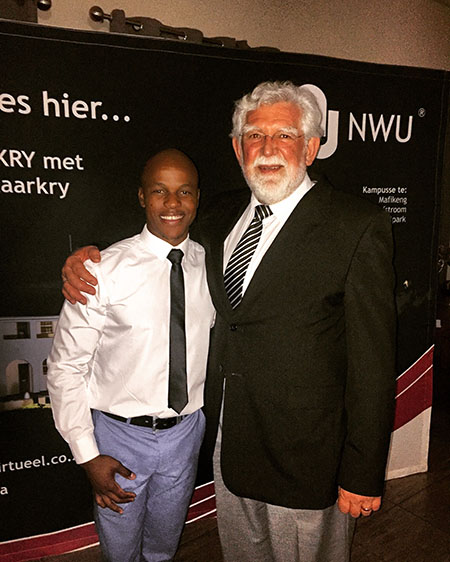 Timothy Qumbu, strength and conditioning coach of the South African Women's XV team, with Prof Fika Janse van Rensburg, deputy vice-chancellor of the NWU's campus in Potchefstroom.